School Board defers vote on cutting 49 jobs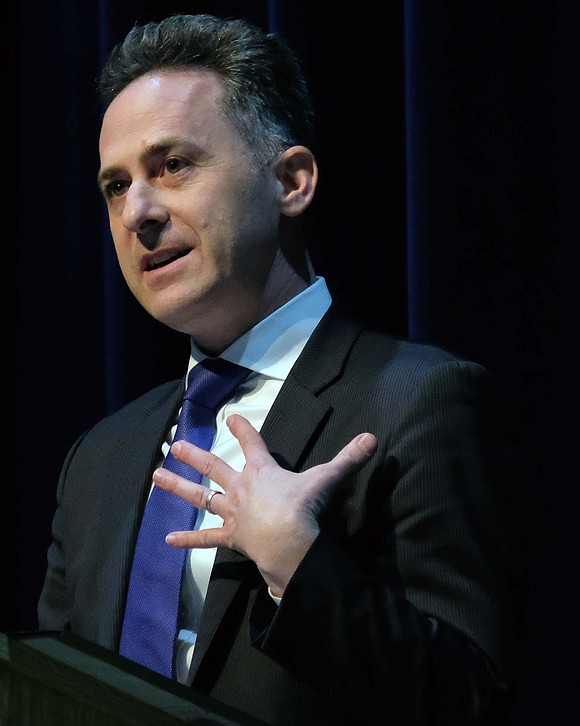 The Richmond School Board postponed voting Tuesday night on Superintendent Jason Kamras' proposed $300 million operating budget after the board became mired in confusion and chaos.

Mr. Kamras' plan includes slashing $13 million from the budget, targeting for elimination about 49 of the roughly 250 jobs in the Richmond Public Schools' central office. Officials have not released what specific jobs would be cut, which also led to claims by some board members Tuesday night of a lack transparency on the part of the schools administration.
The meeting was packed with RPS teachers, staff, parents and school system supporters who were unhappy with the planned cuts and the lack of transparency.
Seventeen speakers told the board more money is needed to beef up programs and instruction in Richmond schools, rather than cuts. They called for more support for the MathScience Innovation Center, more thorough vetting of the impact of cutting any teachers' jobs and reconsideration of extending the current school year by a week from June 12 to June 19 to meet the state required instructional days.
"Reorganization of departments and their critical functions should be discussed by the board in open session," said Kevin Starlings, an RPS parent and chairman of the Operation Make a Difference Foundation.
"We want to know why these cuts are being made to save money while creating new positions with larger salaries when our students are low on resources," he said.
School Board members Kenya Gibson, 3rd District, and Jonathan Young, 4th District, said specifics about which jobs will be cut should be discussed in open session, rather than in executive sessions that are closed to the public.
However, the board's legal counsel said open discussions about job cuts would violate the privacy laws and RPS' personnel policy.
Ms. Gibson's motion to open the discussions was shot down.
School Board member Felicia Cosby, 6th District, requested a delay on the budget vote to give the board a more detailed view of the school district's needs.
"We have to think very carefully because these cuts could potentially have very long-reaching and long-lasting implications," Ms. Cosby said.
Unfortunately, there was confusion on the motion to postpone the vote when board member Cheryl L. Burke, who was participating in the meeting by phone from Dubai where it was 4 a.m. Wednesday, wanted to vote for budget approval, but instead, mistakenly voted to defer the vote.
The vote stood after a motion to rescind the deferral failed to pass.
The board will meet again on Monday, Feb. 25.