Alvin Ailey troupe marks 60th anniversary
By Jocelyn Noveck/AP National Writer | 1/4/2019, 6 a.m.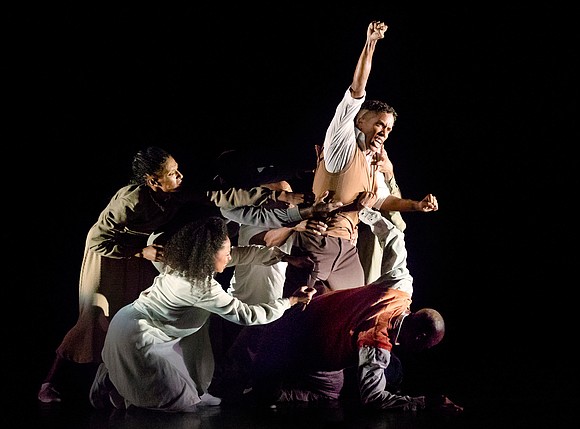 Mr. Ailey grew up in poverty in small-town Texas, to a 17-year-old mother. It's both the story of his early life and the broader African-American experience that the company is telling with the two-act "Lazarus," so named for the theme of resurrection. It was choreographed by hip-hop artist Rennie Harris and commissioned by Robert Battle, Ms. Jamison's successor as artistic director.
"There came this thing of wanting to hear Mr. Ailey's voice, because so many of us didn't have the opportunity to know him," Mr. Battle said. He means "voice" both figuratively and literally; there's a section of "Lazarus" where the choreographer inserts his own voice into old audio of Mr. Ailey, as if interviewing him today.
The piece begins with a historical look at the African-American struggle, including a depiction of lynchings, and then moves into full-on, high-energy hip-hop. "Hip-hop is a celebration of life," Mr. Battle said.
The genre also connects with younger audiences, and the company's challenge — like that of any arts organization — to bring younger people into the fold.
"Our biggest challenge is the competition for people's leisure time," Mr. Battle said. "The phones, the technology." The cost of touring, too, is rising. "We have to continue to find ways to reach new audiences," he said.
However successful the new piece, or others in the company's broad repertoire, nothing will ever take the place of "Revelations," which more than a signature work is the very core of the company's identity. It's on the schedule most evenings the company performs.
Indeed, the work is so much in demand that none other than Mr. Ailey himself tried to cut back on it years ago, to showcase other things. But ticket sales dropped, Mr. Battle said, "And so Alvin said, 'Put it back on!'" Performed everywhere from the Olympics to the White House, the work often has been called the most-seen piece of modern dance.
"It's a phenomenon," Mr. Battle said simply, "a once-in-a-lifetime work. It's universal in such a palpable way that, no matter if we're across the street or across the ocean, people have a visceral response."
He describes a trip to Russia where he felt very far from home — until he saw the audience cheering "Revelations." Suddenly, he says, "it became a church somewhere in the South."
The popularity of "Revelations" is hardly a challenge, Mr. Battle said. He sees it as a blessing. "It's like Aretha singing, 'Respect,' " he notes. "People don't get tired of it. It's, 'C'mon, sing it!' "
Ms. Jamison adds that on evenings when "Revelations" isn't on the bill, audiences still appreciate seeing the new works — and then, she quips, "they'll buy another ticket to get their fix."
Nor do the dancers, for whom "Revelations" is a rite of passage, seem to tire of the work, Mr. Lebrun says.
"There's always something new to say," Mr. Lebrun said.