Richard Overton, oldest World War II vet, oldest man in U.S., dies at 112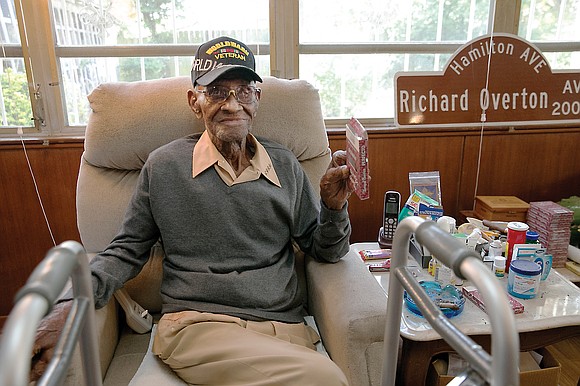 AUSTIN, Texas
Richard Overton, the nation's oldest World War II veteran who was also believed to be the oldest living man in the United States, died Thursday, Dec. 27, 2018, a family member said. He was 112.
The Army veteran had been hospitalized with pneumonia but was released on Christmas Eve and admitted into a rehabilitation facility in Austin, Texas, where he died, said Shirley Overton, whose husband was Mr. Overton's cousin and his longtime caretaker.
"They had done all they could," she said.
Born in St. Mary's in Bastrop County, Texas, on May 11, 1906, Mr. Overton was 36 when he enlisted in the Army in 1942, nine months after the Pearl Harbor attack. He served in the all-black 1887th Engineer Aviation Battalion in the Pacific theater, including Guam, Okinawa and Iwo Jima.
He told a Texas newspaper reporter in 2013 that he had landed on more beaches under fire than he could remember. He also remembered ducking bullets in foxholes and clearing bodies from battlefields.
He served in the military until 1945, and drew national attention during his recent birthdays because of his age and his service in World War II. People he knew and strangers from across the country would stop by and chat with him on the porch of his home in East Austin during the 72 years he lived there.
For several recent birthdays, he welcomed the community into his front yard to celebrate. He once said that one secret to his long life was smoking cigars and drinking whiskey. And during his birthday celebrations, people would give him gifts of both in addition to birthday cards.
Even well into his 100s, he would drive widows in his neighborhood to church.
"With his quick wit and kind spirit, he touched the lives of so many, and I am deeply honored to have known him," Texas Gov. Greg Abbott said in a statement last week, calling Mr. Overton "an American icon and Texas legend."
In 2013, former President Obama honored Mr. Overton at a Veterans Day ceremony at Arlington National Cemetery.
"He was there at Pearl Harbor, when the battleships were still smoldering," President Obama said of Mr. Overton. "He was there at Okinawa. He was there at Iwo Jima, where he said, 'I only got out of there by the grace of God.' "
In one of his last public appearances, Mr. Overton was honored in March 2017 with a standing ovation at a San Antonio Spurs game. He was presented a custom camouflage Spurs jersey with his name and the number "110," his age at the time.
His life will be celebrated at a public funeral 11 a.m. Saturday, Jan. 12, at Shoreline Church in Austin, with burial at Texas State Cemetery, about a half mile from his home. He will be buried next to his cousin, Volma Overton Sr., who was president of the Austin Branch NAACP.