Ferrell helps Clemson clinch national title, ready for NFL
Talk about going out with a bang.
On what would be his grand finale, Clemson University's Clelin Ferrell dumped the University of Alabama quarterback Tua T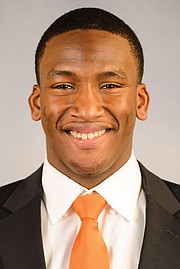 agovailoa for a fourth down, 7-yard loss, snuffing Alabama's flickering hopes.
With that mission accomplished, Ferrell was greeted on the Tigers' sidelines by joyous Coach Dabo Swinney. The two went airborne exchanging a celebratory hip bump.
It served as an emphatic exclamation for Clemson's unexpectedly easy 44-16 (no, that is not a misprint) victory over the national defending champion Crimson Tide in Monday night's College Football Playoff final in Santa Clara, Calif.
Alabama had been ranked No. 1 all season and was a 5½-point favorite to repeat as college king. Clemson had lost to Alabama in last year's semfinals.
Ferrell, a 6-foot-6, 260-pound junior defensive end from the Richmond area's Benedictine College Prep, was among the many defensive stars who throttled the usually overwhelming Tide attack.
Even with the loss, Alabama (14-1) outscored its opponents during the season 684 points to 271.
Another force for Clemson in Monday night's game was K'Von Wallace, a junior defensive back from Henrico County's Highland Springs High School.
Wallace made five tackles while helping limit Alabama to just three points after the first quarter.
Ferrell, redshirted as a Clemson freshman, is eligible for the NFL draft and should hear his name called in the first round of the upcoming pro pickings.
The NFL will have to wait two more years to get a grip on Clemson quarterback Trevor Lawrence, a true freshman from Cartersville, Ga.
Lawrence, the game's offensive MVP, has flowing golden hair and a golden throwing arm, as well. The 6-foot-5, 19-year-old Lawrence threw for 347 yards and three touchdowns. The week before, he tossed for 327 yards and three touchdowns in Clemson's semifinal win over the University of Notre Dame.
Lawrence becomes the first true freshman quarterback to lead a team as a starter to a national title since the University of Oklahoma's Jamelle Holieway in 1985, prior to the present playoff system.
Native Hawaiian Tagovailoa, as freshman, came off the bench a year ago to rally Alabama past the University of Georgia in the final. He didn't become a starter until this year.
Also, with its no-doubt-about-it victory, Clemson becomes the first team in the college's modern era (since 1900) to finish with an unblemished 15-0 record.
All season, the polls said "Alabama-Clemson," in that order. When it counted most, the pecking order changed to "Clemson-Alabama."
The loss could have been worse. Clemson had the ball on Alabama's 10-yard line as time ran out, mercifully, for the men in Crimson.
Both squads are oozing with talent bound for the pros. Players are not eligible for the NFL draft until three years removed from high school. That means Lawrence will have a chance at three straight national crowns before playing on Sundays.
Tagovailoa, this season's Heisman Trophy runner-up, becomes NFL eligible in another year.
Meanwhile, Lawrence figures to be the college's marquee attraction for quite a while.
Ferrell won't have to wait for his first paycheck. While he has worn the No. 99 jersey in Clemson orange, he figures to be a No. 1 pick, wearing suit and tie, on draft day, April 25 in Nashville, Tenn.
Few will finish their college career more triumphantly. The native Richmonder didn't just go out with a bang. He went out with a national championship, too.