VUU's Joe Taylor named to College Football Hall of Fame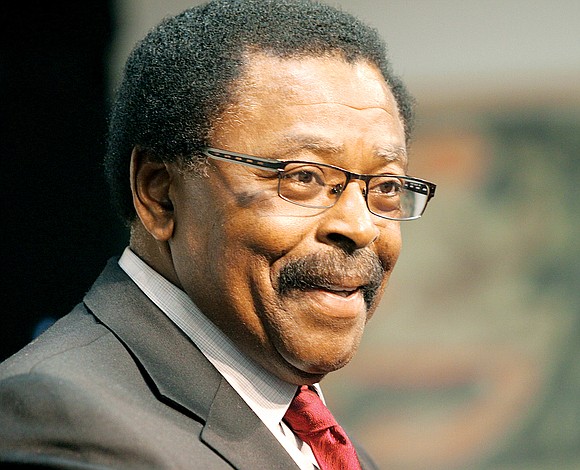 Joe Taylor, director of athletics for Virginia Union University, has been selected for the 2019 College Football Hall of Fame.
As college football honors go, they don't get any higher than this.
"What this says is that I've been around a lot of great people — my fellow coaches, players, school supporters … and the media, too, for telling the story," Mr. Taylor said earlier this week from a coaching function in San Antonio.
He will be part of a national 2019 Hall of Fame Class that includes another coach and 13 former players who will be inducted during a ceremony on Dec. 10, at the National Football Foundation's Annual Awards Banquet in New York City.
Soon after, Mr. Taylor's bust will be placed on display at the College Football Hall of Fame in Atlanta.
A native of Washington, D.C., Mr. Taylor has served as VUU's top athletic administrator since 2013.
As head coach at four universities, Mr. Taylor posted a 233-96-4 career mark, 70.6 percent, between 1983 and 2012.
Upon his retirement from Florida A&M University in 2012, he ranked 33rd in victories among all coaches and third among coaches at historically black colleges and universities.
Mr. Taylor's coaching career began at H.D. Woodson High School in Washington from 1972 to 1977. His first college coaching job was as an assistant at Eastern Illinois University, where he helped that program to the 1978 NCAA Division II championship.
Mr. Taylor first arrived at VUU as former Coach Willard Bailey's offensive coordinator in 1979. After four seasons as Coach Bailey's aide, he accepted the head coaching post at Howard University in 1983.
When Coach Bailey stepped down at VUU to go to Norfolk State University, Mr. Taylor returned to VUU to take the coaching whistle at the Lombardy Street institution.
Between 1984 and 1991 at VUU, he compiled a 60-19-3 record, with three NCAA Tournament invitations.
He then went on to successful stints at Hampton University from 1992 to 2007, where he became the Pirates' all-time winning coach, and Florida A&M in 2008 before retiring in 2012.
"I like to tell our kids hard work doesn't go unnoticed," he said. "But for me, this is very humbling."
There remains a strong bond between Mr. Taylor and his mentor, Coach Bailey, who decades ago had a sharp eye for young coaching talent on the rise.
The men go way back. In fact, they traveled to San Antonio together earlier this week.
Mr. Taylor told what may be his favorite story:
"Coach Bailey called me at Eastern Illinois and asked me to come for an interview, and bring my receipt (for airfare). You know, I still have the receipt," Mr. Taylor recalled.
Asked if he was reimbursed for that long-ago flight, Mr. Taylor cracked up.
"Coach Bailey says he put it in my first paycheck."
No average Joe
Joe Taylor's football coaching record:
• Howard University, 1-9, 1983
• Virginia Union University, 60-19-3, 1984-1991
• Hampton University, 136-49-1, 1992-2007
• Florida A&M University, 36-19, 2008-2012
Under Mr. Taylor, teams won four Black College National Championships (1995, 2004-2006 at Hampton), six MEAC titles (1995, 1996, 2004-2006 at Hampton; and 2010 at Florida A&M) and four CIAA crowns (1986 at VUU and 1992-1994 at Hampton).