Tenn. inmate granted clemency credits church-affiliated program with changing her life
By Bobby Ross Jr./Religion News Service via Christian Chronicle | 1/18/2019, 6 a.m.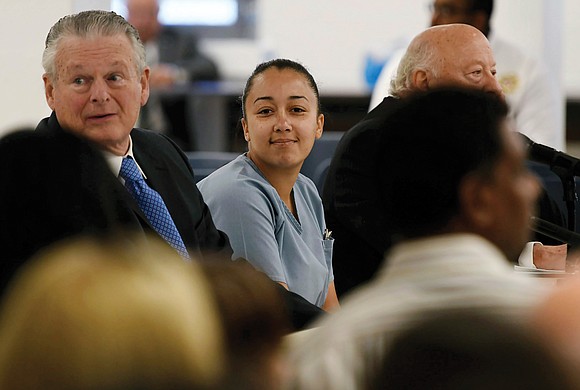 Each semester, the LIFE program at Lipscomb University in Nashville, Tenn., which is associated with Churches of Christ, pairs traditional students with inmates serving time in the Tennessee Prison for Women.
The most high-profile graduate of the academic program offered behind the prison's locked steel doors and razor-wire perimeter made national headlines recently when Tennessee Gov. Bill Haslam granted her full clemency on Jan. 7.
Cyntoia Brown, 30, will be released Aug. 7 after serving 15 years in the 2004 murder of Johnny Allen, 43, whom Ms. Brown shot to death when she was 16.
"This decision comes after careful consideration of what is a tragic and complex case," Gov. Haslam said in a news release. "Cyntoia Brown committed, by her own admission, a horrific crime at the age of 16.
"Yet, imposing a life sentence on a juvenile that would require her to serve at least 51 years before being eligible for parole consideration is too harsh, especially in light of the extraordinary steps Ms. Brown has taken to rebuild her life," added the governor, a Republican in his final days in office. "Transformation should be accompanied by hope."
In pushing for commutation of Ms. Brown's sentence, supporters, including celebrities such as Rihanna, Kim Kardashian and Ashley Judd, depicted her as a victim of sex trafficking. A 2011 film, "Me Facing Life: Cyntoia's story," details her life as a teenage runaway forced into prostitution by an abusive boyfriend.
"I am thankful for all of the support, prayers and encouragement I have received," Ms. Brown said in a written statement after the governor's decision. "We truly serve a God of second chances and new beginnings. The Lord has held my hand this whole time, and I would never have made it without him. Let today be a testament to his saving grace."
Ms. Brown stated the Lipscomb Initiative for Education, known by the acronym LIFE, changed her life.
"Thank you to Dr. Richard Goode and to Dr. Kate Watkins and all of you at Lipscomb University for opening up a whole new world to me," said Ms. Brown, who in prison has earned not only her GED certificate but also an associate degree from Lipscomb. "I have one course left to finish my bachelor's degree, which I will complete in May 2019."
In a testimonial on Lipscomb's website, a student identified as "Cyntoia" wrote: "You don't truly realize how amazing of an opportunity education is until you've experienced LIFE. The power of education to come in and completely overhaul your sense of self and view of the world is incredible. Watching the LIFE program transform my life and the lives of those around me has been a highlight of my life. The Lipscomb Initiative for Education is truly a life-altering experience and you haven't experienced education until you've experienced LIFE."
Dr. Goode, a Lipscomb professor and the LIFE program's founder, said the classes Lipscomb offers behind prison walls breathe freedom and opportunity into students' lives.
"If we're going to take the story of the Gospel seriously, grace means second chances," he told the Christian Chronicle in 2014.