Hampton University studying cancer risks, testing for black women
Matt Jones/Daily Press via AP Member Exchange | 7/4/2019, 6 a.m.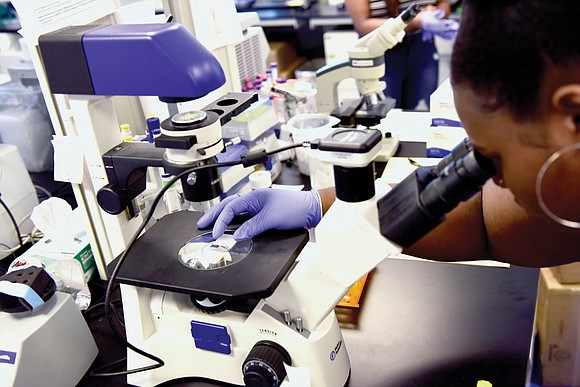 "It's nice to create that pipeline of researchers that look like the population we want to study," Ms. Gomes said.
This round of funding lasts for three years. But they already are looking toward the next phase.
That's where Ms. Gomes' experience comes in. Her background is clinical psychiatry. She sees patients four days a week.
In a second study, once they've isolated some possible genes, they want to control for those genes and then investigate social circumstances that might contribute to breast and other kinds of cancer.
Ms. Gomes hopes to use her background in psychiatry and patient care to help build connections in Hampton Roads in addition to helping with the social research.
"Nurses are considered one of the most trusted health professionals," Ms. Gomes said. "I think that the community trusts us and they value our opinion."
Dr. Ricks-Santi is hopeful about this holistic approach, citing her father's own experience.
Because of the small size of his tumor, doctors and the family took a more wait-and-see approach to treatment. He moved to Puerto Rico for six months to relax.
It seemed to work. His prostate- specific antigen levels, an indicator of that kind of cancer, dropped significantly and have stayed stable.
"It's scary and exciting," Dr. Ricks-Santi said. "There are so many possibilities."