VSU student gets inspiration from Hollywood internship
George Copeland | 7/12/2019, 6 a.m. | Updated on 7/12/2019, 7:41 p.m.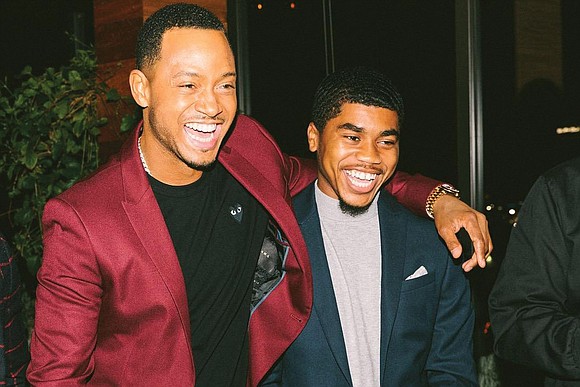 It all started with an app, specifically, a presentation for the app "Sellow" by Virginia State University junior Jaelon Hodges at The Pitch 2019, an entrepreneurial competition in North Carolina held by the Thurgood Marshall College Fund in May.
While Mr. Hodges' work developing the app largely involved selling its benefits as a finance-managing service for students, his ability to engage the audience caught the attention of one of the fund's national ambassadors, actor and producer Terrence Jenkins, better known as Terrence J, former host of BET's "106 & Park."
"When I pitched my app, Terrence J liked my energy, my personality, and he pretty much gave me the internship on the spot," Mr. Hodges said.
While Sellow earned second place in the competition, Mr. Hodges was chosen for a $15,000 scholarship and an internship with Mr. Jenkins at his Sunset Park Productions management company in Los Angeles.
The opportunity is key to the mission of the Thurgood Marshall College Fund, started in 1987, which offers scholarships, research and other opportunities to students at historically black colleges and universities.
"One of the main reasons I signed on as the TMCF national ambassador was to use my platform to give back, invest and inspire the next generation of young, innovative HBCU leaders like Jaelon," Mr. Jenkins said in a statement announcing Mr. Hodges' selection.
Mr. Jenkins was lauded by TMCF President Harry L. Williams for providing students with a guiding hand into the worlds of communications, media and entertainment that are typically difficult to reach for young people of color.
Mr. Hodges shared the internship, typically meant for a single student, with Florida A&M University's Kennedy Hayden. While this meant splitting the time allotted, Mr. Hodges still managed to walk away from his three weeks in Los Angeles with stories to tell.
Beginning June 3, Mr. Hodges' primary role at Sunset Park was to look over film scripts and read screenplays, sometimes accompanying Mr. Jenkins in his day-to-day activities through various studios, with free time devoted to his own projects.
In the fast-moving world of Hollywood, this proximity to Mr. Jenkins gave Mr. Hodges considerable insight into the daily operation of a black entertainment figure. He said he also honed his observational and critical thinking skills as he worked to complete the tasks assigned.
The internship also allowed Mr. Hodges to occasionally encounter or spot celebrity figures like Keith Powers, Jamie Foxx and Queen Latifah. Combined with the switch in landscape from his native Virginia Beach to California, the weeks left Mr. Hodges in awe.
"It was really amazing. It was a life-changing experience. It was really humbling being an HBCU student in the area," Mr. Hodges said.
The experience has been a rejuvenating one for Mr. Hodges, who had felt unsure about furthering his interest in entertainment and television. Now, he works regularly to refine his comedic work, video editing skills and other pursuits on his personal YouTube channel and across his Instagram and Twitter pages. He is driven by a desire for self-improvement, all the while making new friends and associates inside and outside of VSU.
"I feel the fire," Mr. Hodges said. "I make videos all the time now. It really inspired me to make a video every day, interact with somebody every day, make a connection with somebody that you know in your field."
And while he'll continue his studies at VSU in the fall, Mr. Hodges said he now carries new motivation that will stay with him beyond college: "Don't sit around; don't watch time go by. Be active."