Phil Freelon, architect of the African-American history museum in D.C., dies at 66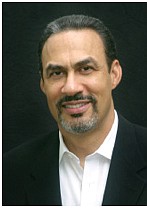 RALEIGH, N.C. - Architect Phil Freelon, who designed buildings ranging from local libraries to the Smithsonian's National Museum of African American History and Culture, died Tuesday, July 9, 2019, in Durham, N.C.
Mr. Freelon, 66, had suffered from Lou Gehrig's disease for several years. He died about a week after he stopped consuming food or liquids, his neurologist said.
"I'll remember him as one of the most gifted architects I've ever worked with but also one of the kindest individuals I've ever known," said Lonnie Bunch, founding director of the African-American museum and now secretary of the Smithsonian Institution.
One of Mr. Freelon's most important contributions to the museum was recognizing the National Mall as "sacred space," Mr. Bunch said, so visitors "didn't just go into a building. They could look out and see where history occurred. So that was kind of his genius."
Mr. Freelon, a Philadelphia native, worked for years at architectural firms in Texas and North Carolina. When he opened his own firm, he was the only employee. He declined to design prisons, casinos or strip malls, focusing instead on libraries, museums and schools because he preferred "projects that contribute to society in some way," he told The Associated Press in early 2017. A statement from his family said Mr. Freelon "designed buildings to uplift the human spirit."
His reputation grew as he designed projects such as the National Center for Civil and Human Rights in Atlanta, the Museum of the African Diaspora in San Francisco, the Reginald F. Lewis Museum of African American History and Culture in Baltimore and the International Civil Rights Center and Museum in Greensboro, N.C.
Along the way, The Freelon Group merged with Perkins and Will, where he was managing and design director. On its website, Perkins and Will stated Mr. Freelon "was committed to designing a socially equitable world," and broke down socioeconomic and cultural barriers in architecture and design." They added, "He led the design of almost every major museum or public space dedicated to black culture in the United States ... He was, arguably, the most significant African American architect in recent history."
The African American history museum opened in September 2016 in Washington to wide acclaim. Mr. Freelon was the architect of record for the museum, working with partner David Adjaye, the lead designer, and Max Bond, whom Mr. Freelon described as dean of the project. The building's design included a facade known as the Corona. Its three-tiered shape was inspired by a symbol from the Yoruba people of West Africa featuring a crown.
"Mr. Freelon's career reflected how much he valued transforming the diversity of the architecture practice, especially for African-Americans," said professor David Hill, head of the school of architecture at North Carolina State University, where Mr. Freelon graduated in 1975 with a bachelor's degree in environmental design. In 1977, he earned a master's in architecture from Massachusetts Institute of Technology, one of several universities where he later served as a visiting lecturer and critic.
In 1989, he was awarded the Loeb Fellowship and spent a year at the Harvard University Graduate School of Design. His work was recognized with many awards. Between 2006 and 2007, Mr. Freelon's designs were honored with seven AIA North Carolina design awards, an accomplishment never before achieved by one firm in a two-year period. In 2008, The Freelon Group was recognized by Contract Magazine as Designer of the Year.