Incumbent Thornton facing 2 challengers in Fairfield District primary in Henrico
Q: How would you serve the community in a way that has not happened?
A: I don't feel public safety has been addressed properly in the Fairfield District. The district has the most low-income housing of any part of the county. County supervisors have not held owners of these properties accountable for letting their properties deteriorate. If elected, I am going to bring awareness to such housing issues.
Q: What other issue are you targeting?
A: We have the Math Science Center not being funded. The community didn't know until the last minute. There is gap in communications between the county and residents.
Q: What are the positives and negatives you see in the Fairfield District?
A: I am happy about the new library, recreation and aquatic center on East Laburnum Avenue. However, we have to look at the beautification of our community. Eastern Henrico neighborhoods have potholes and trash everywhere.
Q: How has C.A.V.E. helped you to understand issues in your community?
A: I organized area coaches to make an effort to stop the violence in the community, especially stopping our children from being shot. That was three years ago. In the last few months, a 5-year-old girl on Byron Street was shot in the head and has to wear a helmet for the rest of her life. I am going to be the one, as a Henrico County supervisor, to do something about this ongoing violence.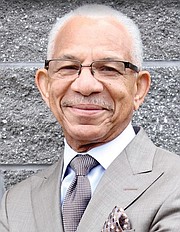 Joseph W. Brown is the founder of Community of Hope Ministry, which offers support to people experiencing homelessness. He also is president of the Hechler Village Neighborhood Watch, participates in Henrico County's Heroes as a mentor to youths and serves on the board of the anti-drug youth-focused Henrico Too Smart 2 Start Coalition.
Q: Why are you running for the Board of Supervisors?
A: I have lived in Henrico for 45-plus years. The Fairfield District was much better at that time than it is now. The community has become stagnant. I decided to run because we have not grown any. I am in this race to make a difference.
Q: How was the county better 40 years ago?
A: When I moved into Hechler Village, there was a shopping center named Eastgate Mall with quite a few quality stores. Now there is only a Walmart. This is an older community, and I think we deserve better.
Q: What needs to be done?
A: I want to revitalize the Fairfield District, starting with the infrastructure — paving streets, making public transportation more available and creating opportunities for small businesses to be successful. I will work with the School Board to help better our school system and provide summer jobs for students. We need to bring back family values — neighbors helping neighbors — and have more family recreation.