High-intensity workouts end with prayer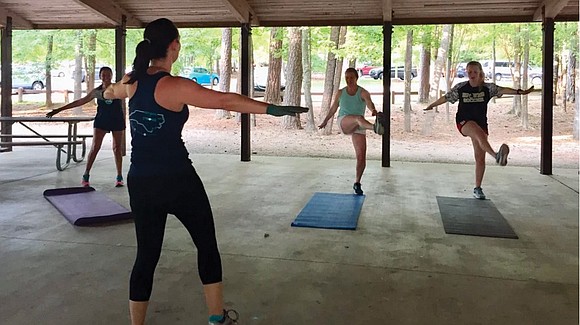 APEX, N.C.
On a Tuesday evening under the roof of a public picnic shelter, a group of women ages 20 to 55 groaned through a series of high-intensity exercises in the 88-degree heat and humidity.
Cheered on by their leader, who yelled, "You're getting stronger," and "You're going to feel like Popeye," the women press on with  jumping jacks, burpee box jumps and a set of other cardio exercises with inventive names: "Dying cockroach," "Ski moguls" and "Sparky crabs."
But the intensity of the boot camp-like drill ended on a quieter, more reflective note 45-minutes later as the women came into a circle, their faces still flush from working out, to close with a prayer:
"Lord, thank you for the time we've been able to be together and just exercise," said Julie Swift, one of the women. "Please bless all these ladies and sustain them through their week. In Jesus' name we pray."
After a unison "Amen," they roll up their mats, give each other a hug and head home — until the next workout.
A host of modern exercise groups have sprung up in the last decade that aim to create fitter bodies, minds and hearts: CrossFit, SoulCycle, Pure Barre, Orangetheory.
All promise to empower, strengthen and transform while creating a sense of community.
The latest is Females in Action, a Southern-style fitness program designed to make women stronger and develop friendships. The FiA brand is the female equivalent to F3  —  its larger male counterpart, which aims to build men up through fitness, fellowship and faith.
But unlike the for-profit studios that cater to urban millennials willing and able to pay $40 a class, Females in Action (like F3) is free. Workout sessions are peer-led. They most often take place outdoors, in public parks or school fields. And they typically end with a spiritual high five.
"We are focused on fitness, but it goes beyond that," explained Catherine Butler, who leads one of three FiA groups in Charlotte, N.C. "We are a community of women that lifts each other up."
Started six years ago, FiA has grown to 53 regional workout groups spread across multiple states but heavily concentrated in North and South Carolina. Many are located in the suburbs and appeal to church-going working women whose husbands oftentimes participate in the male counterpart.
FiA estimates 5,700 women work out at its exercise sessions, and many say the biggest draw is the camaraderie and support the women offer one another.
"There's nothing ever negative here," said Caroline Uenking, 20, who accompanied her mother, Heather, to a recent workout. "It's all positive."
Ms. Uenking, who has some problems with her calves, and her mother, who has a hard time touching her toes, are never singled out, they said. Instead, they're  encouraged to do what they can, altering a particular exercise to meet their abilities.
Like the F3 male-only version from which it borrows extensively, the workouts have a certain military style that stems from one of its founders, David Redding, a former member of the Green Berets. Although some workouts incorporate yoga and others running, the typical session features aerobic exercise sets in which participants push themselves as hard as they can, rest and repeat.