High-intensity workouts end with prayer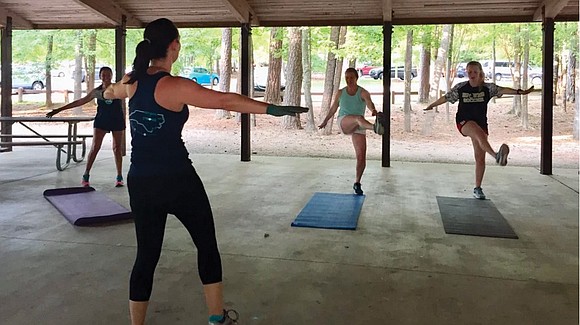 In keeping with military nomenclature, participants are required to have nicknames, too. Stephanie Walton, the leader of the Apex, N.C., group, is known as Peachtree; Janice Azeveda, who leads a group that meets in Cary, N.C., is known as Van Gogh.
But although the exercises are hard-core, the female-only environment makes it more inviting for some women.
Ms. Swift, 55, said she felt overwhelmed attending gym classes alongside men.
"I would prefer women who can influence each other," she said.
The gender restriction may be part of FiA's more traditional appeal. If some of the newer fitness center brands draw millennials with no particular faith, FiA draws people who tend to be more religiously conventional.
Though not explicitly Christian, FiA promotes the idea of a belief in a higher being, whatever that might be called. It's a formula that also echoes the second Alcoholics Anonymous step, "We came to be aware that a Power greater than ourselves could restore us to sanity."
Ms. Walton, a mom now studying for a degree in health and fitness science, said FiA made her a better person.
"Since I've been doing FiA I've been going to church more," she said. "I've been doing more soul-searching. It's just part of it. You start caring about people. You see their children being born. You do things for their husbands when their husbands are sick."
Not everyone in F3 is religiously devout, and not all sessions end in prayer.
But the group leader, called a "Q," is expected to end each workout with what's called a "Circle of Trust," intended as a short time to reflect.
Ms. Azeveda, who leads a 5:30 a.m. workout in Cary, tends to keep things strictly nonsectarian. She concluded a recent session by reading a quote from personal coach Cheryl Richardson about the importance of self care.
A 58-year-old preschool teacher, Ms. Azeveda said she nearly fainted the first time she attended a FiA workout. She was never very athletic, she said, and gyms did nothing for her.
"If you decide not to go, nobody at the gym is going to say, 'Hey, I missed you. Where were you?' " she said. "With this particular group, if you're not there, somebody checks in with you and asks, 'Are you OK?' That's a beautiful thing, having relationships of support. That's really important."
Through FiA, she's lost weight and gained muscle. Best of all, FiA empowers women and cheers them on.
"It's a life-changing group," she said. "Physically you change because you're taking care of your body. Mentally you change because you're meeting new people and establishing new relationships and spiritually you change because you're taking time out to reflect on your life. It's a good thing."