Kaepernick, Reid reach settlement with NFL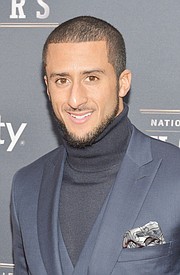 In what amounts to a secret agreement, Colin Kaepernick and Eric Reid last week resolved their grievances with the NFL.
They will receive an undisclosed settlement based on claims that NFL owners colluded against them as retaliation for kneeling during the playing of the national anthem.
Both sides — the players' lawyers and representatives of the NFL — have agreed that no details will be announced. The NFL Players Association has approved the settlement.
Kaepernick, who was a quarterback for the San Francisco 49ers, began kneeling during the 2016 season as "The Star-Spangled Banner" was played to protest the oppression of black people and people of color, particularly the killing of African-Americans by police. 
The next person to kneel was Reid, then a safety for the 49ers.
Soon after, black players throughout the NFL followed suit, as well as college and high school players across the country.
The bold stance against racial injustice was applauded by many, but criticized by others, including President Trump, who urged team owners to fire the protesters. In many cases, TV networks stopped showing the national anthem being played in hopes of cooling off what became a hot issue.
Kaepernick, who quarterbacked the 49ers to the 2013 Super Bowl, became a free agent following the 2016 season and was not picked up by another team. He has not played since the 2016 season, despite numerous job openings around the league.
The 31-year-old native of Milwaukee contends he was blackballed by NFL owners for what some considered an unpopular stance.
Kaepernick's career, despite the long detour, may not be over. Among the teams showing interest now are the Seattle Seahawks, where he might become the backup to quarterback Russell Wilson.
Reid's situation is much different. He has continued playing throughout the controversy.
After leaving San Francisco following the 2017 season, Reid played this past season with the Carolina Panthers. On Feb. 11, he signed a three-year deal worth $22 million with the team based in Charlotte, N.C.
Still, Reid contends he has been singled out as a target by the NFL for his protest and support for Kaepernick. This past season, he was tested for banned substances seven times, an inordinate amount based on the league average. A former first round draft choice out of Louisiana State University, Reid passed all the tests.
Since the settlement, Nike has launched online sales of a "Colin Kaepernick Icon Jersey" for $150. It is black and silver, colors similar to those of the Oakland Raiders, with No. 7 on the front and back.
The jersey went on sale Feb. 20 and sold out within hours.