Local chef-caterer turns empty church kitchen into a busy business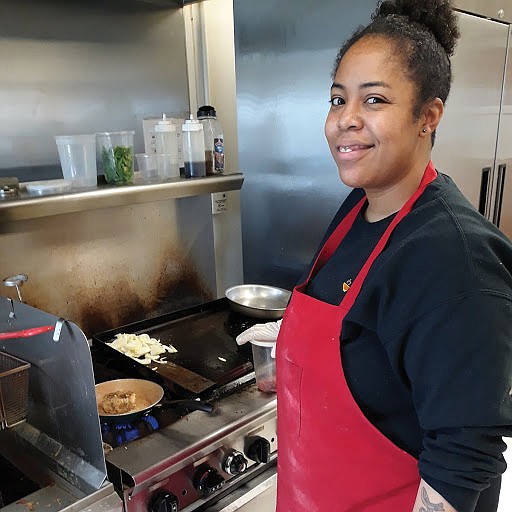 On weekdays, the kitchen at Faith Community Baptist Church in Richmond's East End is a beehive of activity six hours a day.
Tiara S. Smith has turned the once-empty kitchen into the cooking headquarters for her growing lunch delivery and catering company, Drop Off Chef.
Amid controlled chaos, she cooks meals and orchestrates deliveries to a growing list of customers who call for her chicken and fish creations five days a week.
She said the church's willingness to rent the space for $300 a month has been a godsend for her and the 11 part-time people she pays to help prepare and deliver the meals.
"Commercial kitchens are expensive. Finding a fully equipped space that doesn't cost an arm and a leg means I can concentrate on building the business," said Ms. Smith, a former bartender who is passionate about the food she prepares and the encouraging messages she sends out to her customers.
And that's the kind of activity that the church's founding pastor, Dr. Patricia A. Gould-Champ, hoped for when she offered to rent the kitchen to Ms. Smith two years ago and turn what had been mostly unused space into a place that generates jobs and new opportunity in a struggling area of the city.
For years, Dr. Gould-Champ, who also is an associate professor of practical theology at Virginia Union University's seminary, has beaten the drum for churches to get more involved in using their space to support community business growth.

"We all have parking lots and kitchens and other spaces that we use on Sundays, but are left empty the rest of the week," Dr. Gould-Champ said.
In her view, churches should be looking for ways to make their empty space more productive in ways that benefit the community. And that means doing more than giving away food and clothing to the needy, she said.
"We need to go beyond preaching to helping to create prosperity," she said. That includes turning portions of church land into small farms to generate fresh food, as her church also is doing.
Along with renting to Drop Off Chef, Dr. Gould-Champ said that she invites other chefs and fledgling food entrepreneurs to come in on two Sundays a month to prepare and sell lunches to congregants and others.
Across the city, churches use part of their property to operate day care centers, schools and similar operations that create jobs and also provide another stream of revenue to support operations.
And there are other examples, such as First Baptist Church of South Richmond, which has developed apartments and office space on its property, built homes in nearby neighborhoods and also provided rental space for community and private events in its Imani Center on its South Richmond campus.
That's also the case with United Nations Church International, which continues to rent part of its South Side property to small businesses whose offerings attract people who belong to the church while also generating employment opportunities.
Still, Dr. Gould-Champ believes most ministers and church leaders have little interest in subletting space to private businesses.