A resurrection story
Richmond Christian Center climbing back from bankruptcy with entrepreneurial efforts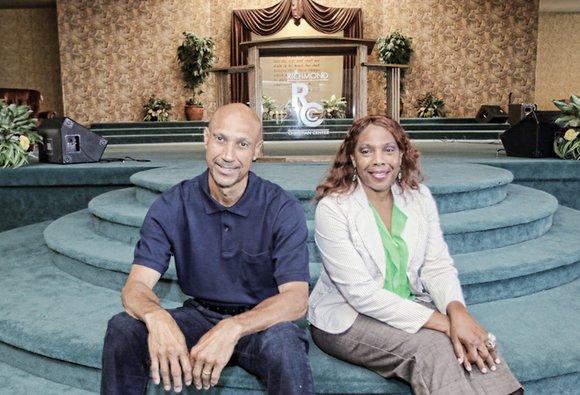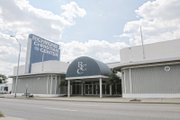 Where can you find people worshipping alongside a women's fitness center, a youth sports program, a small business loan program and an events center for banquets, weddings and other events?
Welcome to the revived Richmond Christian Center, which is bubbling with new life on South Side just two years after it seemed close to collapse.

Forced into bankruptcy in 2013 to save itself, the 300-member church is making a strong comeback in the 200 block of Cowardin Avenue — in part by taking an entrepreneurial approach.

Aided by a court-appointed trustee's trust in the church's ability to once again be self-supporting and two hard-working property managers, the 32-year-old church is embracing its role as a lively center of faith — and of small business development.
To improve its finances and regain its financial footing, the Richmond Christian Center has been leasing much of its property to companies that fit with its vision of being a community-focused church.
"Many people think we closed, but nothing could be further from the truth," said Rhonda D. Hickman, chair of the three-member volunteer trustee board that is overseeing the church's operations. "We never closed and now we are stronger than ever."
Under the leadership of Ms. Hickman and trustee board members the Rev. Calvin W. Yarbrough, the church's youth pastor, and Raymond Partridge, the church is starting to bustle.
Much of the credit appears to belong to a new property management company, Ujima Properties Inc.
The church hired the company to fill its empty space, including several separate buildings on the property that was once home to an automobile dealership.
The results generated by Ujima's principals, Forando B. Holmes and Michelle G. Tinkler, have exceeded expectations, yielding $8,000 to $10,000 a month in new revenue from rent, Ms. Hickman said, on top of congregational giving that tops $13,000 a month.
Among others, Mr. Holmes and Ms. Tinkler persuaded the venerable Richmond Boys Choir to make the church its new home. The 20-year-old nonprofit choir moved in earlier this month.
Dawn Estelle Archer, a fitness guru, brought her SWEAT program to a former warehouse on the church's back lot. On any given day, 90 to 150 people will be taking classes to get in shape under the banner of her company, Dawn Estelle Fitness.
Separately, businessman Collin Brown's BrownStone Sports leased the church's vacant gym. Mr. Brown and Manny Harris ran the Blacktop Kings and Queens Sports Academy that drew 200 dues-paying youths ages 5 to 18 to participate in a summerlong basketball camp. They now are preparing to offer afterschool sports programs in the fall and spring.

Meanwhile, the Ujima partners rebranded the church's 100-seat fellowship hall and kitchen space as the Royal Manchester Events Center, which can be rented for receptions, dinners and other activities.
Richmond Christian Center also provides worship space for another church, Victory Christian Outreach Ministry, which was lined up by Ujima when they found Pastor Lori Bloodworth was looking for larger space.
That appears to be just the start. Ujima is preparing to ink lease deals with at least three other businesses, including a day care, As We Grow II; a small company, Alice's Love, that offers handmade crafts, invitations and special occasion décor; and a loan company, Solutions Management Group, that specializes in alternative financing for churches and small businesses.
"We've been selective about the companies we've chosen," Ms. Tinkler said. "We wanted to bring in businesses that fit with each other and could help provide a community feel. It's not just about the money."
To add to that community feel, Mr. Holmes is turning part of a parking lot into a space for food trucks to offer Friday lunches. Last Friday, trucks with such names as "Crab Trap" and "Curry Flurry" were on hand.
Separately, the church is holding a once-a-month flea market on its parking lot and inviting neighbors to rent space at low cost to join in creating a yard sale atmosphere.
None of this seemed possible in 2013, when the church's lender was seeking to foreclose on the property to satisfy its mortgage. At the time, the church's founding pastor, Stephen A. Parson Sr., was in charge.
He founded the church in his home in 1983 and, for a time, grew it into one of Richmond's largest, creating an employment service and a business and home development arm.
At one point, the church had thousands of members, but over time, membership waned.

Plenty of twists and turns took place as Pastor Parson fended off the lender and kept the bankruptcy case running. But last November, it seemed to be over for the Richmond Christian Center after federal Judge Keith L. Phillips overseeing the bankruptcy ordered the property auctioned.
A Henrico church, Mountain of Blessings Christian Center, was the high bidder and seemed likely to get the property for $2.1 million. But the judge, showing sympathy for the RCC members, declined to order RCC to consummate the sale.
Instead, he installed a Richmond attorney, Bruce H. Matson, as trustee. Following his review, Mr. Matson rejected the sale after finding remaining RCC members committed to supporting and enhancing the church. As a result, he worked with the trustees to create a plan and also gained agreement from the lender to refinance the loan and lower monthly payments.
Pastor Parson also was cut off from control of the church's finances and went on a sabbatical.
"People wondered where the leadership would come from," Ms. Hickman said. But "we were built for leadership."
Ms. Hickman runs her own business consulting firm, Well Springs Inc. Rev. Yarbrough, also a certified public accountant, also operates his own financial services company, Sector Solutions.

Joined by Mr. Partridge, a state employee, the trio kept the church operations going. For services, the church has relied on eight assistant pastors under Pastor Parson to handle weekly services and Bible study. No one is paid, Ms. Hickman said. "We're all volunteers."
Meanwhile, the trio took over the finances, ensuring the congregation could trust that the tithes and donations would be used as intended, particularly with Mr. Matson keeping a close watch.
The church trustees are hopeful that Judge Phillips will confirm the financial plan and allow the church to emerge from bankruptcy next week.
If all goes as planned, Mr. Yarbrough said the church could be debt free "within two years."
Ms. Hickman said Pastor Parson is still listed as the church leader, and down the road, once the church is out of bankruptcy, she expects him to return to the pulpit. But she said his return would be under an agreement that he would not handle any of the church's money or business affairs.
Meanwhile, she said the trustees are focused on the future, which includes making plans to replace the current sanctuary with a new building. "Our building is getting older," she said. "At some point, we'll need a new space, and that's something we need to start thinking about."