Pitching legend Don Newcombe dies at 92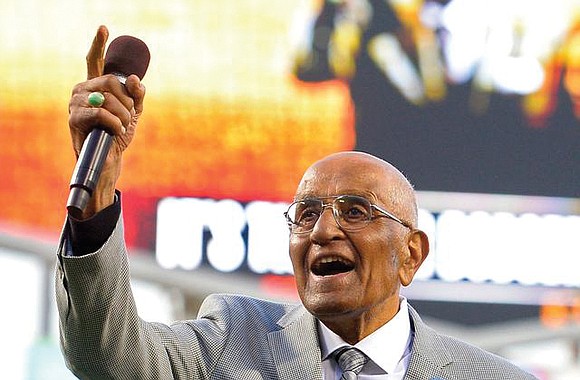 Soldier duty: Mr. Newcombe missed the 1951 and 1952 seasons while serving in the Army during the Korean War. Those would have been prime seasons in which he would have likely won more than 40 more games.
A slugger, too: Had Mr. Newcombe not been such a fearsome pitcher, he'd have likely made it to the big leagues at another position. While he threw right-handed, he hit left-handed — and with considerable power. He was often used as a pinch hitter in games he didn't pitch.
In 1955, he hit an astounding .359, with seven homers and 23 runs batted in. For his career, he hit .271 with 15 homers.
Also an excellent fielder, he twice compiled a perfect 1.000 percentage with the glove.
Legacy: Mr. Newcombe figures heavily into author Roger Kahn's touching book "The Boys of Summer," about the 1950s Dodgers.
Speaking at a fundraising event for U.S. Sen. Barbara Boxer of California in 2010, President Obama referred to Mr. Newcombe, who was in attendance, as "someone who helped make America what it is … I would not be here if it weren't for Jackie, and if not for Don Newcombe."
Also, Mr. Newcombe gets a mention in the classic song, "Talkin' Baseball," by Terry Cashman:
"We're talkin' baseball, Kluszewski, Campanella;
Talkin' baseball, The Man and Bobby Feller;
The Scooter, the Barber and The Newk;
We knew 'em all from Boston to Dubuque;
Especially Willie, Mickey and The Duke."
The Dodgers, which moved to Los Angeles in 1958, announced that all players will wear on their uniforms a No. 36 patch — Mr. Newcombe's number — throughout the 2019 season.