Personality: Kimberly Battle
Spotlight on Richmond Branch president of the National Association of University Women
3/8/2019, noon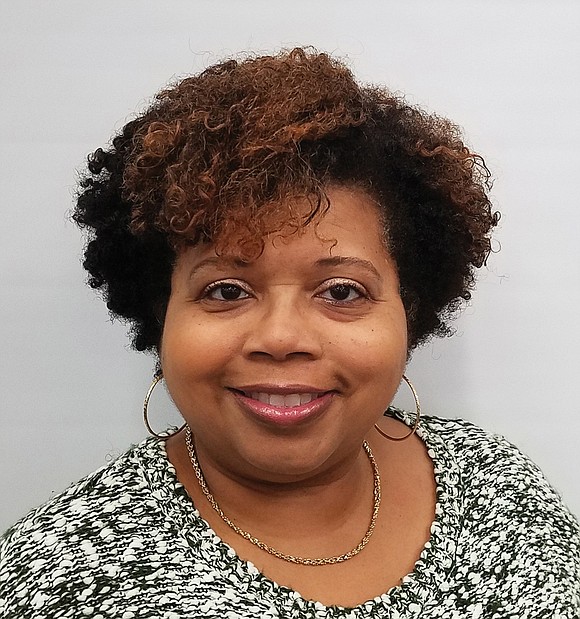 A small, low-key group of women is working hard to address education issues in the United States and abroad by working with women, youths and the disadvantaged in local communities and in developing countries.
"We are small … but mighty," says Kimberly Battle, president of the Richmond Branch of the National Association of University Women.
Among its efforts, the group provides reading materials to youngsters at the Peter Paul Development Center in the East End; awards a $1,000 scholarship each year to a Richmond area high school graduate that is renewable for up to four years; helps increase the number of African-Americans in bone marrow and organ donation databases; and supports Alzheimer's disease research, awareness and caregiver programs.
"We deal with the practical sides of programs and the nitty-gritty side of support and what we can do to make our community better," Ms. Battle explains.
That's a lot for the 16 women in NAUW's Richmond Branch that traces its local beginnings to Virginia Union University in 1931, two decades after the national organization's inception in Washington in 1910.
On Saturday, March 9, the branch will celebrate the vision and purpose of the organization with a Founders' Day Luncheon honoring seven local "Unsung Heroes," people who "demonstrate a commitment to uplifting the disadvantaged and improving the lives of African-Americans" in Metro Richmond, Ms. Battle says.
Want to go?
What: Richmond Branch of the National Association of University Women Inc.'s Founders' Day Luncheon
When: Noon to 2 p.m. Saturday, March 9, at Quioccasin Baptist Church, 9011 Quioccasin Road.
Speaker: Richmond Public Schools teacher Rodney Robinson, a finalist for National Teacher of the Year.
Honorees: Ceremony honors seven local "Unsung Heroes:" Kevin Banks, Shynetta Campbell, Retired Army Maj. Debbie M. Dozier, Leon Jones, Natima Jones, Ronald Russell and Marquella Whiters.
Tickets: $35.
Details and tickets: nauw.richmond@yah...
Honorees are Kevin L. Banks, a key figure in the restoration of historic Evergreen Cemetery; Shynetta Campbell, who established "Your Life Matters," a nonprofit that increases community awareness of people impacted by depression, mental illness and suicide; retired Army Maj. Debbie M. Dozier, a registered nurse and kidney donor who promotes organ donation in the African-American and minority communities; Natima Jones, a former youth center director who continues to work with Armstrong High School's leadership and cheerleading programs; Ronald Russell, a Scout leader who has mentored more than 25 young African-Americans helping them to achieve the Boy Scouts' highest award, the Eagle Scout; Deacon Leon F. Jones, a longtime Cub Scout master and member of the Astoria Beneficial Club who started a mentoring program for elementary school students; and Marquella Whiters, a life coach who created a program to boost students' self-esteem.
"This is one of our biggest programs," Ms. Battle notes.
The Richmond Branch's work follows NAUW's national theme for the next two years: "A Legacy of Service and Commitment to Action."
"It's important to have a legacy of service and a commitment to action," Ms. Battle says. "We are about action."
Historically, branch members have largely been educators, Ms. Battle says. But as the role of women has expanded in society, so have the professions of the branch members.