We must invest in ourselves
Dr. Ravi K. Perry | 3/29/2019, 6 a.m.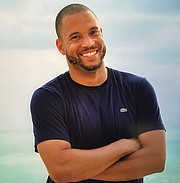 In his 1993 classic "Race Matters," scholar Dr. Cornel West characterizes what our fiscal priorities say about us as a community: "The neglect of our public infrastructure" is a reflection of "not only our myopic education policies ... but also the low priority we place on our common life."

When will we stop pretending that something other than systemic racism has caused the state of Richmond Public Schools and the city's deteriorating infrastructure?
Let's get one thing straight: Mayor Levar M. Stoney's 2020 budget proposal to invest in public education and to improve basic services is an effort to remedy racism. It's effectively universal affirmative action with a price tag. Simply put, the mayor asks us city dwellers to invest in ourselves.
For decades after WWII, Richmond's white leaders fought hard to prevent the city's population from becoming majority black. As more black people moved into Richmond from nearby counties, more white residents moved out of the city. Federal highway "urban renewal" programs destroyed black neighborhoods while it simplified the commute for white suburban residents to drive into the city for work and quickly leave.

Beginning in the1980s, many black people left the inner city to live in the suburbs. Most have never returned. Frankly, some black people chose individuals in their families over the collective good of the black community. While black people surely did not begin this out-migration trend, we did help its proliferation.
In the past 10 years, Richmond's population has rebounded significantly as cities became cool again. But the newcomers are increasingly white and/or multiracial people.
The result? Today, Richmond has lost its majority single-race black status and is now 48 percent African-American — a majority minority city, but not a majority black city.
Meanwhile, 75 percent of RPS students live near or below the poverty line because, in this country, public education is reserved for the poor and those with limited options simply based on where they reside. In America, your ZIP code determines your early educational opportunities.
To no fault of their own, the education of our children is subject to the income of their parents. This should not be, but it is. So how do we deal with it in a city with the highest poverty rate of any urban locale in the Commonwealth? How do we confront this when it costs about 40 percent more to educate a student living in poverty?
As the story of black migration to the suburbs attests, if you can afford a better life, you likely jump at the chance, leaving your community behind. Those of us that remain are left holding the bag all the while struggling to crawl out of the gutter of underfunded schools.
Earlier this month, Mayor Stoney presented his 2020 budget to City Council, which includes a 9 cent property tax hike proposal. After the mayor's presentation, Councilwoman Reva M. Trammell suggested Mayor Stoney was breaking a campaign promise to not raise taxes. Her strong opposition to taxes is representative of a larger culture that engulfs more than just local Richmond politics.