Councilman Hilbert opposes Salvation Army move to North Side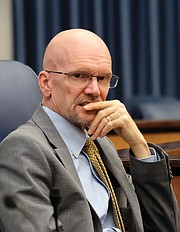 "I am firmly against this."
That's the not-in-my-backyard response from 3rd District City Councilman Chris A. Hilbert's to a Free Press report last week that the Salvation Army is applying for a special use permit to move its combination headquarters and homeless shelter from Downtown to a church building in Mr. Hilbert's North Side district.
Mr. Hilbert told the Free Press that he has pledges from three other City Council members to oppose the Salvation Army's relocation plan to the former Eternity Church building at 1900 Chamberlayne Ave. That's just enough votes to kill the permit that would require approval from six of the nine City Council members.
"I'm not all powerful," said Mr. Hilbert, who declined to name his allies, "but this is my district."
He said the Salvation Army proposal he has seen would amass too many homeless people in a section of the district that is in transition but also has its share of crime.
At least three new apartment complexes are in the works to bring more than 600 residential units to the area that is seeing positive growth, but also has witnessed a recent murder and struggled with thievery, prostitution, drug dealing and other behavior challenges, Mr. Hilbert said.
He said that along with emergency housing, the Salvation Army's plan appears to include serving as the city's winter overflow shelter that was located in the Annie Giles Community Resource Center in Shockoe Valley from October to April. That shelter served more than 120 people on the coldest nights during the winter.
Mr. Hilbert backs the position of the Chamberlayne Avenue Industrial Association, which represents nearby businesses and fears the impact of having dozens, if not hundreds, of people needing help wandering streets in the area.
Mr. Hilbert said he has told Salvation Army officials as nicely as possible to look elsewhere for a building to replace the longtime facility at 2 W. Grace St. that it has outgrown.
He doesn't have any suggestions, but said that finding such a replacement is not part of his job description.
The Salvation Army remains undeterred, even after Mr. Hilbert delivered his message to the religious group's attorney, T. Preston Lloyd Jr. of the Williams Mullen law firm.
"We knew there was a possibility of Councilman Hilbert opposing this project," Salvation Army spokesman Evanne Armour stated in a response to a Free Press query.
"We're optimistic that, with further conversation and collaboration, community members could see this move from the perspective of the Salvation Army. This move would give us the opportunity to centralize services, to provide in-residence case management and to offer family services, education and employment classes, counseling and fellowship and spiritual support," she noted.

"The Salvation Army would have an opportunity to resolve present community concerns rather than contribute to them," Ms. Armour stated.
Now marking its 134th year of service in Richmond, the Salvation Army needs more space than provided in the 1970s building it now occupies on Grace Street, she continued.

The nearly 50,000 square feet of space at 1900 Chamberlayne Ave. would allow the Salvation Army to expand its emergency housing capacity from the current 55 beds to 97 beds to help "continue the overall decline in homelessness" in the city, she stated.
And the new space would provide better access for disabled people because it is a single-story building, she said, unlike 2 W. Grace St., where the shelter is on the second floor.
Ms. Armour confirmed that the special use application did include the possibility of using part of the building for the overflow shelter.
In order to allay concerns about people wandering through the area, she said the Salvation Army has pledged to have housing monitors on duty around the clock to support residents and improve security.
The goal, she stated, would be to use the facility and staff to "reduce the need for an overflow shelter" by using the building as a temporary shelter and working with clients to find more permanent housing.