Benedictine's Jay Woolfolk: A talent for all seasons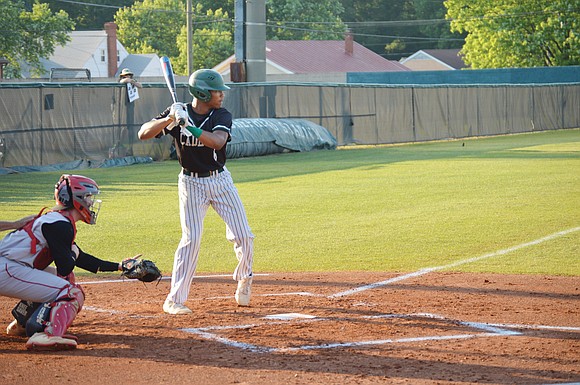 Jay Woolfolk travels in baseball's fast lane.
He has a sizzling fastball that scares the dickens out of hitters, and a lightning fast swing that makes rival pitchers want to duck.
It's easy to see why Woolfolk is on the fast track to success as a precocious 16-year-old sophomore for Benedictine College Prep. His talents were on full display last weekend at Shepherd Stadium in Colonial Heights.
The 6-foot-1, 195-pound Woolfolk showed off his power — slamming a 400-foot home run in last Friday's Virginia Independent Schools state semifinals — and a right arm pitching speeds of up to 93 mph on radar guns in the title game last Saturday.
"It was the championship game and the adrenaline was flowing. I was throwing hard," the 10th-grader said.
The gifted son of Pete and Brandy Woolfolk of Western Chesterfield County was among the season-long headliners on a Benedictine squad that topped St. Christopher's 7-4 to clinch the state title.
Coach Sean Ryan's Cadets finished the season 28-2.
Baseball report card
Jay Woolfolk's sophomore year statistics at Benedictine:
Offense
.388 average (31 for 80)
.542 on-base percentage
5 homers, 5 triples, 3 doubles
26 runs batted in
24 stolen bases
Pitching
6-0 record
2.57 earned run average
50 strikeouts in 32.1 innings
In the final, Woolfolk scorched an opposite field, line drive double off the right field wall. And after playing six innings in center field, he was summoned to the mound where he closed the victory with two seventh inning strikeouts.
There's more to Woolfolk's athletic skills. He also is the Cadets' dual-threat (run/pass) football quarterback and a starter on the basketball team.
Already he has received separate scholarship offers for baseball and football from the University of Virginia. He also has a baseball scholarship offer from Virginia Tech.
Should Benedictine send out an SOS. for a track star, Woolfolk is up for that as well. While he has not run track for Benedictine because of his spring baseball commitment, he is blessed with the speed of a sprint champion.
As an eighth-grader at Bailey Bridge Middle School, he won the Chesterfield County 100-meter and 200-meter sprints and ran a leg on victorious and record-setting 4x100 relay team.
"We always wanted Jay to have options," his father said. "We signed him up for all sports and he has done fairly well in all of them."
There's plenty of competition for bragging rights around the Woolfolk dinner table. Woolfolk's father was a basketball standout at Jefferson-Huguenot-Wythe High School and the University of Richmond. In 1984 at JHW, he led the Trojans to the State Group AAA crown while earning All-Metro honors.
In four seasons at UR, he scored 1,604 points, grabbed 859 rebounds and was instrumental in the Spiders' upsets of Georgia Tech and Indiana University in the 1988 NCAA Tournament.
Then there is Woolfolk's younger sister, Jamia, a seventh-grader at Bailey Bridge Middle School. The 6-foot Jamia ranks with the area's brightest basketball prospects.
The baseball season is just gathering momentum for Woolfolk. Once the high school season ends, he plays travel ball for the nationally prominent Virginia Cardinals — that is until football season arrives. Then he trades his glove and bat for shoulder pads and a helmet.
"I'm a seasonal player," Woolfolk said. "My favorite sport is whatever sport is in season."
Away from the competition, young Woolfolk isn't unlike other teenagers. He celebrated his state championship a day later, taking a date to the Dominion Riverrock Festival in Downtown.
Life is easier for the Woolfolk family since the teen got his driver's license recently. He can be spotted in the morning driving the family Jeep across the James River en route to Benedictine's Goochland County campus, a distance of some 20 miles, through rush-hour traffic.
"I make it in 25 minutes," he said.
That's getting there in a hurry, which is not surprising. Woolfolk is never one to get caught in the slow lane.