Caleb Grimes stands out for Benedictine
Fred Jeter | 10/19/2017, 6:17 p.m.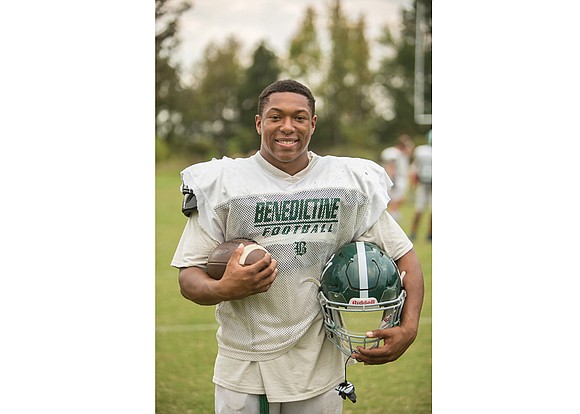 Caleb Grimes is planning a career in the Navy. In the meantime, he's giving his opponents on the football field a bad case of the blues.
Trying to bring down Grimes is like trying to tackle a tidal wave. The Benedictine Prep senior running back is powerful, relentless and self-assured.
"I've never lacked confidence," the 5-foot-10, 200-pound Grimes said. "I feel like when I get to the outside, I'm the most explosive runner in Virginia."
Cadets Coach Greg Lilly puts it like this. "I'm not saying that Caleb is looking to run over people, but he's got speed and power and it's like he's going downhill. He's a hard guy to tackle."
While Grimes is a powerhouse on the gridiron, he's "all smiles, 'yes sirs' and 'no sirs' " around campus, Coach Lilly said.
"Caleb is a pleasure to coach," he said. "He leads by example. He has the respect of his teammates." 
His young life is well mapped out.
The son of Ricky and Natasha Grimes of Midlothian has received an appointment to the U.S. Naval Academy, where he will play NCAA Division I Middies football starting in 2019 while likely majoring in political science.
Prior to reporting to the academy in Annapolis, Md., he will spend a school year honing his credentials at the Naval Preparatory School in Newport, R.I.
Grimes chose the Navy over numerous offers from other big football schools in the FBS and FCS. West Point and the Air Force Academy also expressed interest.
"It wasn't just a four-year decision. It was a lifetime decision," Grimes said of picking the prestigious military academy.
"By going in the Navy, I'll do things other people will never be able to do. And I'll be better able to take care of my family."
A native of Buckingham County, Grimes lived briefly in Charlotte, N.C., before moving to Chesterfield and enrolling at Cosby High School. He transferred to the all-male Benedictine — a Catholic military school in Goochland County — during the spring semester of his sophomore season.
"My parents made a big sacrifice to send me here," he said. "It made me more focused, more responsible, a better student."
He quickly established himself on the football field and in the classroom.
Last fall, Grimes ran 1,369 yards for 15 touchdowns in just 10 games, helping take the Cadets to the State Virginia Independent Schools Division I final.
He was just getting his groove on. In his first five games this season, he piled up 596 yards and nine touchdowns, including a breathtaking 94-yard run in Benedictine's 48-7 win Sept. 29 over visiting Bishop O'Connell High School of Arlington.
Through six games, Grimes has rushed for 645 yards on 88 carries, with nine touchdowns. The Cadets are 4-2 and will host Woodberry Forest on Friday, Oct. 21 at noon.
He has proven speed on the track, too, having covered 100 meters in 11.9 seconds and 200 meters in 22.8 seconds.
Academically, Grimes boasts a 3.0 GPA in all college-bound courses. His busy fall schedule includes anatomy, government, Spanish III, English, statistics, geology and military science.
While brimming with confidence, Grimes is quick to share the spotlight with teammates. He points to his backup, junior DeAndre Tobias, as "someone who's going to get a lot of (college) offers."
He singled out precocious freshman Jay Woolfolk as "the best athlete on the team."
And he wouldn't conclude an interview without making sure a reporter jotted down the names of his burly offensive linemen — Daric Cotman, Jaymere Fleming, Cole Simon, Brian Daughtry, Dominic Pastore and Jack Hall.
He even eyeballed a reporter's notepad to ensure all the names were accounted for.
"I've got a great line," he insisted.
Grimes' No. 1 goal as a senior is to win a State VIS title, something the Cadets were one victory short of a year ago.
Then he can sing "Anchors Aweigh" as he sails off into the more nautical chapter of his life.