Ex-George Wythe track star signed to NFL's N.Y. Giants
6/9/2017, 12:29 p.m.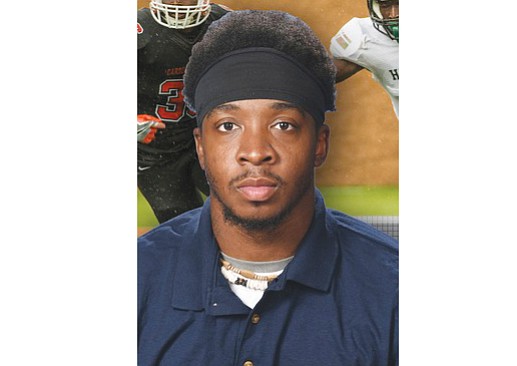 Former George Wythe High School track and field standout Kevin Snead has taken the fast track to the NFL.
Known more for his blazing track speed than his modest football résumé, Snead signed a free-agent contract with the New York Giants following the team's recent Rookie Mini Camp in East Rutherford, N.J.
He has begun practicing in the Giants' Organized Team Activities in New Jersey and is on New York's 90-man, offseason roster.
Snead played football this past season for Carson-Newman University in Jefferson City, Tenn., after playing previously for Pima and Mesa community colleges in Arizona.
At Carson-Newman University, he caught five passes for 151 yards and one touchdown, and also returned 17 kickoffs for 419 yards, including a 90-yard touchdown.
More impressively, the 6-foot, 190-pounder ran 40 yards in 4.22 seconds (with fully automatic timing) at the University of Tennessee Pro Day in Knoxville.
His time tied the NFL Combine record of 4.22 seconds set by John Ross this year in Indianapolis.
In the spring of 2016, Snead set Carson-Newman University records in the 100-meters (10.21 seconds) and 200-meters (20.75 seconds). During indoor track in 2016, he set the university's mark of 6.77 seconds for 60 meters.
That earned him the title "Fastest Man in College Football" by the U.S. Track & Field and Cross Country Coaches Association. The award is given to a versatile standout displaying exceptional speed in both football and track.
Surprisingly, Snead never played high school football, according to his uncle, the Rev. Robert Winfree.
"He never played a game, not a single one," said Rev. Winfree. "Kevin started off at Meadowbrook (in Chesterfield) and transferred to Wythe. He never got on the field, though. I want to credit (George Wythe faculty member) Kimberly Jones and (Wythe Principal) Reva Green for sticking with Kevin and helping him get into junior college."
Snead hails from an athletic family.
His cousins, Rev. Winfree's grandsons, are Robert Johnson, a basketball player at Indiana University; Yahkee Johnson, a football player at Hampton University; and Malik Johnson, a basketball player at Canisius College in New York.
Snead's brother, Kaelin Snead, is a former football standout at Hermitage High School in Henrico.