Who's the fastest in the NFL?
George Wythe graduate wants chance to show it's him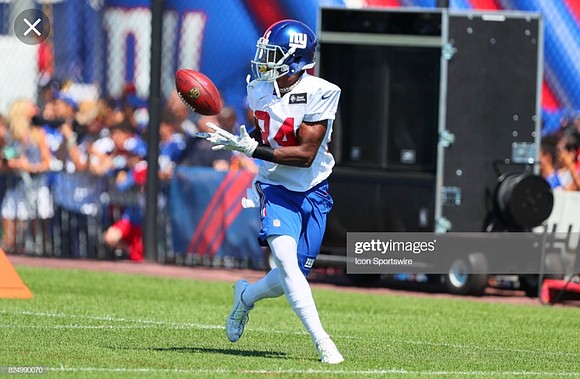 Richmonder Kevin Snead is in the running to be named the fastest man in the NFL.
But he needs votes to land one of eight spots in the "40 Yards of Gold" tournament-style competition slated for June 22 in Miami, where eight offensive and eight defensive NFL players will run the 40-yard dash to determine who's the fastest.
After elimination rounds, the fastest offensive player will go head to head against the fastest defensive player, with the champion clinching a $1 million prize.
Mr. Snead, a 2011 graduate of George Wythe High School, hopes the competition will get him back into the NFL. He had signed a free agent contract with the NFL New York Giants during rookie minicamp in 2017, but three months in he suffered a hamstring tear and was released by the Giants.
"Winning 40 Yards of Gold will provide an opportunity to get back into the league," the 27-year-old told the Free Press this week.
After running track in high school, Mr. Snead played football and ran track at an Arizona community college and moved to Eastern Michigan University before transferring to Division II Carson-Newman University in Tennessee.
He came into his own at Carson-Newman, winning the South Atlantic Conference championship in the 100- and 200-meter events. The sprinter also won All-American honors, and in 2016, set Carson-Newman's indoor record in the 60-meter dash with 6.77 seconds.
During the 2017 University of Tennessee Pro Day, he ran 40 yards in 4.22 seconds. The U.S Track & Field and Cross Country Coaches Association once referred to him as the "Fastest Man in College Football."
Since his injury, Mr. Snead has been working to rebound with physical therapy. In 2018, he participated in the free agents spring league attended by NFL scouts.
But the next event may prove to open the door for him.
Mr. Snead said at last look, voting has put him at No. 5 among the offensive players and on track to run against Kareem Hunt, a 23-year-old running back from Ohio who was drafted in the third round by the Kansas City Chiefs in 2017 and selected to the Pro Bowl during his rookie year. He was released in 2018 because of domestic violence allegations and signed by the Cleveland Browns earlier this year.
"If people continue to vote, I will be sure to participate" in the tournament, Mr. Snead said.
As for Mr. Hunt, Mr. Snead said he'll be able to beat anybody he's up against.
The deadline to vote is Friday, May 24, at www.40yardsofgold.com.