Costs for new schools continue to rise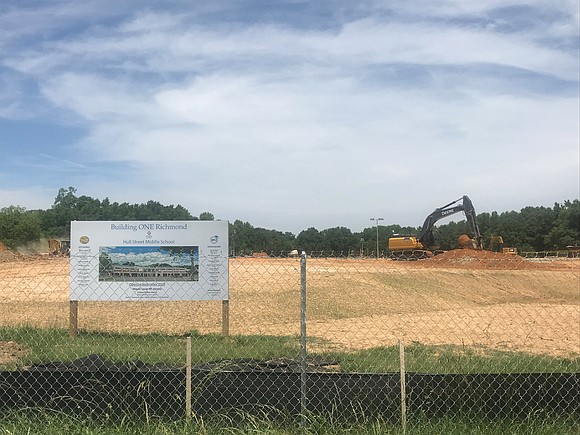 The price tag for the three new schools Richmond is building is continuing to rise.
The projected cost is now estimated to run $146 million to $148 million, a $6 million to $8 million jump in just the last few months, the Free Press has learned.
That represents a 4 percent to 6 percent increase from the $140 million estimate disclosed last month, and a whopping 33 percent increase from the $110 million cost that was projected in 2017 when the Richmond School Board approved the new construction.

Richmond has agreed to borrow $150 million for the three schools, with the debt to be repaid from a 1.5 percent increase in the city's meals tax. The new, higher projected cost is likely to eat up most of the money.
The latest surge in costs was discussed at an Educational Compact meeting of the School Board, City Council and Mayor Levar M. Stoney last week, along with the disclosure that more than $50 million already has been contracted primarily for installation of utilities and other preliminary work at the three school sites.
Sources told the Free Press the potential construction cost increases stem from subcontractor bids running higher than expected for George Mason Elementary in Church Hill, Greene Elementary in South Side and the replacement middle school for Elkhardt-Thompson in South Side on which site work has begun in the 6300 block of Hull Street Road.
School Board member Kenya Gibson, 3rd District, said this underscores the need for an independent, third party review of the contracts and costs promised in April by RPS Superintendent Jason Kamras. Mr. Kamras previously objected to the potential $250,000 cost of such a review, but has now agreed to have the school system join the city in having a review done.
As of Monday, the city's Department of Procurement Services did not list any advertisement or award for such a consultant.
Ms. Gibson, who holds a master's in architecture from Yale and is married to an architect, remains skeptical that Richmond is getting a good deal, particularly with the city spending far more than Chesterfield County for similar sized schools.
She noted previously that RRMM Architects of Chesapeake, whose designs are being used, promised far lower construction costs when it briefed the School Board last September, and she cannot understand how the costs for the three buildings has jumped to the current level.
School Board member Jonathan Young, 4th District, is looking toward Monday, June 3, when the city-RPS Joint Construction Team is to present potential cost-cutting proposals to the School Board.
Mr. Young indicated that one proposal involving a change in the type of roofing materials could save up to $2 million.
"I'll vote for that," he said.