Deontay Wilder's KO power shows no signs of letting up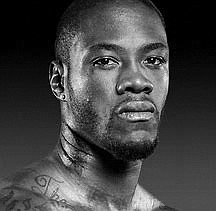 Deontay Wilder is power personified.
The 33-year-old native of Tuscaloosa, Ala., packs a knockout punch the likes of which no one has seen in the rich history of the ring.
After annihilating Dominic Breazeale on May 18 with a vicious right hand to the jaw in the first round of the match in Brooklyn, N.Y., Wilder is 41-0-1, with 40 knockouts.
Boxing's blockbusters
Here is a list of heavyweight champs with their records and knockout totals:
• Deontay Wilder, 41-0-1, 40 KOs
• Mike Tyson, 50-6, 44 KOs
• Rocky Marciano, 49-0, 43 KOs
• Wladimir Klitschko, 55-3, 49 KOs
• George Foreman, 76-5, 68 KOs
• Riddick Bowe, 43-1-1, 33 KOs
• Joe Louis, 66-3, 52 KOs
• Jack Dempsey, 54-06-9, 50 KOs
• Joe Frazier, 32-4-1, 27 KOs
• Lennox Lewis, 41-2-1, 32 KOs
• Jack Johnson, 74-13-10, 40 KOs
• Sonny Liston, 54-4, 39 KOs
• Michael Spinks, 31-1-2, 21 KOs
• Floyd Patterson, 55-8-1, 40 KOs
That's a higher percentage of KO's (98 percent) than the iconic legends of the sports, Muhammad Ali, Joe Frazier, George Foreman, Mike Tyson, etc.
Wilder's opponents generally hear birdies chirping just moments into the contest. Of the 40 KO's, 20 have come in the first round — under 3 minutes — in a career dating to 2008. Breazeale lasted just 2 minutes, 51 seconds before Wilder gave him a one-way ticket to the canvas.
Wilder has reigned as the World Boxing Council heavyweight champ since 2016 when he became the first American to hold the prestigious title in nine years.
Known as the "Bronze Bomber" — a tribute to Joe Louis, the "Brown Bomber" — Wilder casts a commanding presence in the ring, standing 6-foot-7 with a 6-foot-11 wingspan.
He's uncommonly lean and fast for a heavyweight boxer. He weighed in at a rough-and-ready 223 pounds for the brief Breazeale bout.
Wilder grew up in Tuscaloosa and starred in football and basketball at Tuscaloosa Central High School. He dreamed of becoming an athlete at the nearby University of Alabama. When that didn't work out, he enrolled at Shelton State Community College and began pursuing a career in boxing gloves.
Wilder posted a 30-5 record as an amateur and won a bronze medal at the 2008 Summer Olympics in Beijing.
The lone blemish on his pro résumé was a draw against Tyson Fury last December. And even in that fight, Wilder knocked Fury down in the 12th and final round before the decision went to the judges.
Now time is nearing for a "unification" fight among the world's elite heavyweights. Englishman Anthony Joshua holds three titles — IBF, WBA and WBO — but is little known on this side of the Atlantic.
Undefeated Joshua is fighting Andy Ruiz on June 1 at Madison Square Garden in New York. It will mark Joshua's first fight on U.S. soil. All of his previous fights have been in England, Scotland and Wales.
If Joshua prevails against Ruiz as predicted, a Wilder versus Joshua super showdown would be a promoter's, as well as a fan's, dream made in boxing heaven.
Among those hoping a Wilder versus Joshua bout becomes a reality is former heavyweight champ George Foreman
"If Wilder and Joshua fight, it will be the biggest heavyweight fight of all time — bigger than anything," Foreman told TMZ Sports. "It would be a wonderful thing to see."
Foreman, known for his explosive knockout power, sees a lot of himself in Wilder.
"That' a puncher, a real live puncher," he told TMZ.