Hard work pays off with Celtics contract for Javonte Green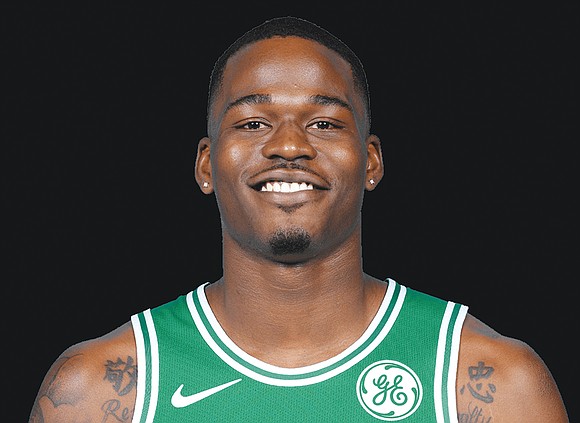 Virginia's contribution to this year's NBA rookie crop includes three familiar names, plus a relative unknown.
Well-known NBA newcomers include De'Andre Hunter with the Atlanta Hawks, Kyle Guy with the Sacramento Kings and Ty Jerome with the Phoenix Suns, all from the 2019 NCAA Basketball Champions — the University of Virginia.
With far less fanfare, Petersburg na- tive Javonte Green, by way of Radford University, Brunswick High School and frequent excursions throughout Europe, has earned a spot on the Boston Celtics' roster.
Green recently signed a two- year contract with the Celtics worth $898,310 per season, but with only $100,000 guaranteed.
"It's been a long journey," Green told the Boston media after making the team. "My dream has come true. The tears you see are tears of joy."
Green impressed Boston General Manager Danny Ainge and Coach Brad Stevens with his offense and defense during the NBA Summer League in Las Vegas.
A 26-year-old, 6-foot-4, 220-pound shooting guard, Green beat out Max Strus for essentially the 15th spot on the Celtics' active roster. Strus then was signed by the Chicago Bulls.
Green becomes the first athlete from a Big South Conference school to sign an NBA contract.
Playing for Radford University 2011 to 2015, Green finished as the all-time leader in rebounds (1,064), steals (245) and games played (133) and second in scoring (1,911 points).
He was also the Big South Defensive Player of the Year as a senior.
Green was born in Petersburg and lived there until age 12, when his family moved to Alberta in Bruns- wick County. He became an All-State standout and Co-State AA Player of the Year at Brunswick High under Coach Bryant Stith, a former U.Va. standout and NBA star.
As a senior, Green helped Bruns- wick High to the Group AA, Division 3 State championship at the Siegel Center. He also guided Brunswick to the state finals the three previous years, with the team losing each time in the title game.
Despite his glossy high school résumé, Green's only scholarship offer from a Division I school was from Radford University, coached by former VCU aide Mike Jones.
Green had another option, however. He was also a standout quarterback at Brunswick High and had a football scholarship offer from James Madison University.
He has never regretted choosing jump shots over throwing football spirals.
Un-drafted coming out of Radford University, Green played professionally in Spain, Italy and Germany. He also gained citizenship with Mon- tenegro and played on that Eastern European nation's 2017 entry in the FIBA World Cup.
Green has dual citizenship in the United States and Montenegro.
Patience has paid off after all those travels and Green has landed right where he wants to be — in the NBA.
"This is just the beginning," he told the Boston media.