City's interim HR director enticed out of retirement with high salary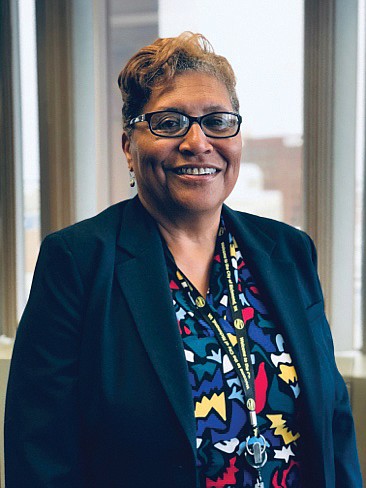 City Hall's new interim director of human resources has been hired at a salary far above that paid to the most recent director or interim director, Mayor Levar M. Stoney confirmed.
Mayor Stoney said the $161,000 salary that Mona Adkins-Easley was offered brought her out of retirement to run the city Department of Human Resources. He noted that Ms. Adkins-Easley, who started work Oct. 31, has 34 years of experience in the field, mostly notably at Virginia State and Norfolk State universities, and that candidates with more experience are paid more.
"We want the best person we can find," Mayor Stoney said. "That was the only consideration."
Ms. Adkins-Easley's salary has raised eyebrows among some inside City Hall, the Free Press learned. The salary is about $31,000 more than that paid to Karen D. Garland, the previous interim director.
Ms. Garland was paid about $130,000 a year, city records show. She held the
interim post since the fall of 2018. Korita B. Jones, the last permanent director of Human Resources,was paid $135,000 a year, according to city records.
Ms. Garland has returned to her previous post as deputy director of human resources.
Following Ms. Jones' departure in 2018, the city advertised the open job's pay range as $102,000 to $156,000. Ms. Adkins-Easley's salary is above that range.
The city currently is not advertising for a human resources director, accord- ing to a review of the city's employment opportunity page.
Ms. Adkins-Easley did not respond to a Free Press request for comment.
Her experience was touted in an Oct. 30 news release issued by the Mayor's Office announcing her interim appointment.
The news release noted that Ms. Adkins-Easley spent 17 years as associate vice president of human resources at VSU under the administration of former President Eddie Moore. She held the same title for about four years at NSU while Mr. Moore was president there. She retired in 2018 when he left.
Ms. Adkins-Easley's career highlights also includes service as director of the Virginia Council on Human Rights from 1990 to 1994 as an appointee of then-Gov. L. Douglas Wilder.
She also worked several years in Washington for the U.S. Department of Agriculture's Office of Advocacy and Outreach, overseeing three national scholarship programs and working with minority and women farmers.
Ms. Adkins-Easley earned a bachelor's degree from VSU and a master's degree from Virginia Commonwealth University.
However, she does not hold certifications from the Society for Human Resource Management, a professional organization. While not required for the job, the city has shown a preference for hiring SHRM-certified candidates.