Family matters
Inspector general's report details how 5 relatives of former CAO Selena Cuffee-Glenn were hired, but finds no evidence she was involved directly in their hiring
Lenora Reid is officially in charge of Richmond city government — for now.
City Council voted 9-0 on Monday to confirm Mayor Levar M. Stoney's request that Ms. Reid, the city's chief financial officer, serve as interim chief administrative officer in the wake of her predecessor being fired because of nepotism.
Mayor Stoney fired CAO Selena Cuffee-Glenn on Sept. 18 following the release of an internal inspector general's report that found five of Ms. Cuffee-Glenn's relatives, including her daughter, were on the payroll of departments reporting to her, a potential violation of city policy.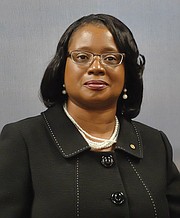 The mayor secured the unanimous vote backing Ms. Reid as a replacement despite earlier grousing from City Council about Ms. Reid's direct role in approving the hiring of Ms. Cuffee-Glenn's daughter for a provisional job in the Department of Public Utilities at a 25 percent higher wage than most others in the same administrative support position make across city government.
Ahead of the meeting, Councilwoman Reva M. Trammell, 8th District, described the appointment of Ms. Reid as the equivalent of "hiring the fox to guard the hen house."
Others expressed concern that Ms. Reid commutes from Williamsburg daily and never feels the impact of decisions concerning Richmond residents.
Still, the council felt constrained to avoid further upheaval in city government.
That appears to be the case with the mayor. Along with promoting Ms. Reid, the mayor has shown no interest in removing two department heads, Director of Public Works Bobby Vincent and Director of Public Utilities Calvin Farr, who also were implicated in the inspector general's report in the hiring of Ms. Cuffee-Glenn's relatives.
All five of Ms. Cuffee-Glenn's relatives still work for the City of Richmond.
Ms. Cuffee-Glenn denied doing anything unethical, and called the report "mere conjecture without foundation or basis."
Ms. Reid is a close associate of Ms. Cuffee-Glenn. When Ms. Cuffee-Glenn served as Suffolk's city manager before coming to Richmond in 2015, Ms. Reid was her top finance official.
After Mayor Dwight C. Jones named Ms. Cuffee-Glenn as CAO in Richmond, she quickly brought in Ms. Reid to take over the city's finance operations, which were in apparent disarray at the time. Ms. Reid, considered a no-nonsense official who has admirers and detractors among the rank and file, created a new leadership team, filled vacancies and is credited with getting financial operations back on track, although it took her and her staff three years to complete the audit on time.
The departure of Ms. Cuffee-Glenn comes at a busy time. Ms. Reid and her staff were in the process of completing the critical annual audit for the 2019 fiscal year that ended June 30 and were beginning to focus on preparation of the next budget that will be presented to City Council in March.
According to the inspector general's report, the city payroll includes Ms. Cuffee-Glenn's daughter, a niece, two second cousins and the spouse of one of the cousins.
Ms. Cuffee-Glenn's husband, a deputy with the Richmond Sheriff's Office, also receives a city check, but that office is independent and the office's employees do not fall under the CAO's authority.