Hampton extends free tuition for second semester to Bahamian students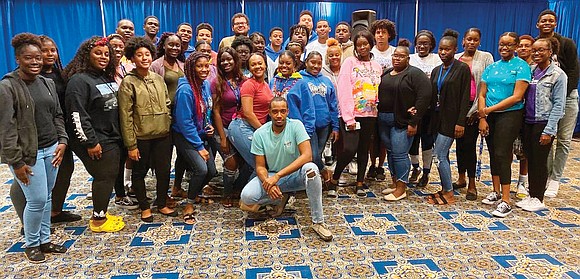 The 46 students from the Bahamas who were displaced from their colleges at home to Hampton University following Hurricane Dorian were given an unexpected Halloween treat.
Hampton University President William R. Harvey announced on Oct. 31 that the students can remain at the HBCU for a second semester free of charge.
"Thankfulness is a virtue, and every single one of you who I've talked with appears to be so thankful for what we have done," Dr. Harvey stated in a news release.
The devastating hurricane struck the Bahamian island of Abaco on Sept. 1, wiping out homes, churches, businesses and other structures and killing many in its wake. Students affected by Hurricane Dorian were invited to enroll at Hampton University at no charge for one semester, an arrangement made by Dr. Harvey and University of the Bahamas President Rodney Smith. Dr. Smith is a former administrative vice president and chief planning officer at Hampton University.
"I'm going to issue a blanket order that those of you who are in good standing, academically and socially, I'm going to let you come back another semester, under the same auspices. Room, board and tuition. Free," Dr. Harvey said.
The students were welcomed at Richmond International Airport in early October with a drumline fanfare from HU's "The Force" marching band. They have been helped during the transition by many of the campus resources, officials said, including the HU International Office, the Health Center and Student Counseling Center.
"On behalf of all the students, our parents, families, thank you," Kristoff Strachan, a Bahamian student, stated. "We are grateful to God that we have this opportunity and we are thankful for your kindness and gratitude."
Officials said they expect all 46 students to remain at HU through the spring semester.