Mayor Stoney throws over Columbus to proclaim Oct. 14 Indigenous Peoples' Day
Jeremy M. Lazarus | 10/11/2019, 6 a.m. | Updated on 10/11/2019, 8:11 p.m.
Richmond has long refused to recognize the annual federal Columbus Day holiday that will fall on Monday, Oct. 14, to remember the European explorer Christopher Columbus who "discovered" America.
Until now, City Hall has registered its disapproval by staying open even as federal and state offices closed.
Going further, Mayor Levar M. Stoney plans to proclaim next Monday as Indigenous Peoples' Day, joining Alexandria, Charlottesville and 60 localities across the country in honoring the native people who were displaced and largely destroyed as a result of the European invasion.
The mayor will host a brief public ceremony 4:30 p.m. Thursday, Oct. 10, in City Council Chambers at City Hall to present his proclamation of Indigenous Peoples' Day to representatives of the 11 Virginia Indian tribes.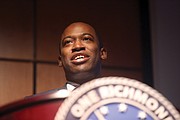 The mayor has not sought council's concurrence on the change of designation for Oct. 14, but is using his authority to issue proclamations. He or his successor would need to issue such a proclamation annually to continue the practice unless and until City Council passes legislation to formally rename the day.
Still controversial, the idea of replacing Columbus Day with a day honoring the First Nations people has gained momentum since 1990. Seven states now recognize the holiday as Native American Day or Indigenous Peoples' Day.
"The mayor considers it highly appropriate to recognize and celebrate the contributions of native people," press secretary Jim Nolan said Tuesday.
Mr. Nolan also said upon Free Press query that he is unaware of any concerns raised by residents of Italian descent about the proclamation.
"We are just focusing on this event," he said, noting that the event is being organized by a human resources employee in charge of the city's diversity and inclusion efforts involving its personnel.
While the mayor's action has drawn comments on Facebook, there has been little in the way of public cheers or criticism on social media.
But behind the scenes, the Free Press has been told some residents are registering their opposition to eliminating Columbus Day and believe Mayor Stoney could have designated another day to honor indigenous people.
This year, the United Nations designated Aug. 9 as International Day of the World's Indigenous Peoples.
"If he's trying to build One Richmond as he says, this is not the way to do it," said a City Hall employee,
who has heard from friends of Italian heritage who are offended.
The employee requested anonymity before speaking about the matter.
"I thought he was a smart politician. But what he has done is to favor one group and slap another in the face. If he did that in New York or Philadelphia, he'd be run out of town," the employee said.
"There are a lot of people with Italian backgrounds in this city. Why else would Richmond have a statue to Columbus? There is no reason to insult them to honor another group."