World Heritage Festival, Festival of Kites this Saturday
9/6/2019, 6 a.m.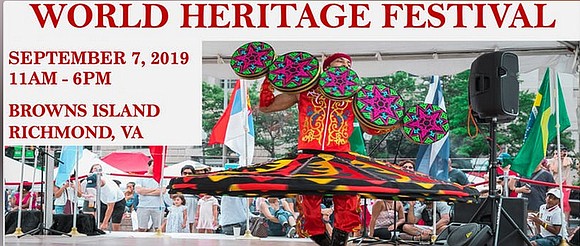 A free international festival on Brown's Island that will offer children an opportunity to showcase their kite-flying skills will highlight Richmond events this weekend.
Expanding from Washington, the World Heritage Festival and Festival of Kites will make its debut in Richmond 11 a.m. to 6 p.m. Saturday, Sept. 7, at the riverfront island located between 5th and 7th streets in Downtown, it has been announced.
Along with kite flying, the event will feature dance groups performing the folk dances of Bolivia, Brazil, Egypt, Hungary, India, Japan, Lebanon, Romania and Turkey, according to Chic Events, producer of the annual festival it also stages in five other locales in Virginia and Maryland.
Eleven food vendors also will be on site, along with more than 35 artists, companies and individuals offering items ranging from jewelry to ceramics, clothing and crafts, Chic Events stated. Other vendors are to include nonprofit groups and government agencies offering information, the company stated.
Details: www.Choicevents.com.