4th Annual Afrikana Independent Film Festival starts Thursday
9/13/2019, 6 a.m.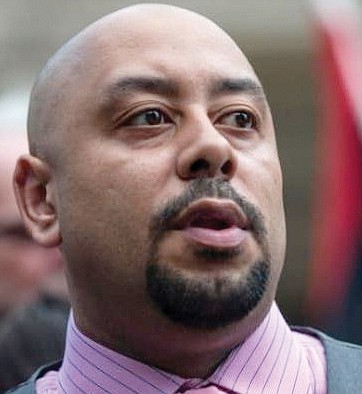 Raymond Santana, who was 14 when he and four other youths were wrongly charged with the attack and rape of a female jogger in New York City's Central Park in 1989, will moderate a discussion about the now Exonerated Five case following a documentary film screening at the 4th Annual Afrikana Independent Film Festival this weekend in Richmond.
Mr. Santana served five years in prison before DNA evidence exonerated him in early 2002, showing that a convicted murderer and rapist was responsible for the crime.
In 2014, New York City officials announced a settlement with Mr. Santana and the other members of the Exonerated Five for about $40 million in their malicious prosecution case against the city.
Mr. Santana will highlight festival events on Saturday, Sept. 14, following the 12:30 p.m. screening of "The Central Park Five," a 2012 documentary by Ken Burns, David McMahon and Sarah Burns that inspired directorAva DuVernay's recent Netflix series, "When They See Us."
The screening and discussion will be held at the Institute for Contemporary Art at Virginia Commonwealth University, 601 W. Broad St.
The four-day festival begins 7 p.m. Thursday, Sept. 12, with an opening night reception, performance by Calvin Presents and screening of snippets from the film "Harriet," about abolitionist Harriet Tubman played by Cynthia Erivo, at The Valentine, 1015 E. Clay St. The sneak peek will be followed by a panel discussion led by Dr. Sesha Joi Moon, founder of the "Angry Black Female" online community.
At 8 p.m. Friday, Sept. 13, the Institute for Contemporary Art will host the premiere of "The Remix: Hip-Hop X Fashion," by Academy Award nominated director, writer and producer Lisa Cortes and director Farah X. The film will be followed by a panel discussion with celebrity stylist and designer Misa Hylton, fashion designer April Walker and the films co-directors.
In addition to Mr. Santana's talk on Saturday, the festival will feature a variety of short films and panel discussions in the Richmond Arts District. A 30th anniversary screening of Spike Lee's "Do the Right Thing," will be held at 8:30 p.m. at C'est Le Vin, 15 N. 17th St.
Sunday events include a trolley ride and brunch highlighting black Richmond hosted by Untold RVA.
"It's important for people to understand the power of black storytelling. Human narratives of laughter, unity, heartache and empowerment uncover our common stake in this world," film festival founder Enjoli Moon stated in a news release about the event.
While some of the events are free, entry fees and tickets are needed for others.
Details: www.afrikanafilmfestival.org