4 city schools to get new names
The Richmond School Board has embraced renaming four city schools and approved, on an 8-1 vote Monday night, a process to make it happen.
The schools to get a new name by the end of the year are George Mason Elementary School in Church Hill, E.S.H. Greene Elementary School in South Side, Amelia Street School in the West End and the new middle school under construction in South Side.
The renaming plan was advanced by Superintendent Jason Kamras.
"At the end of the day ... changing a name is but a symbol. But symbols matter, especially today when so many Americans of so many backgrounds feel increasingly under attack," he said.
In June 2018, the School Board voted to rename J.E.B. Stuart Elementary School in North Side, which was named to honor the Confederate general, to Barack Obama Elementary School. New signs and logos were in place when the Fendall Avenue school opened that fall for the 2018-19 academic year.
New George Mason and Greene elementary schools also are under construction and are scheduled to open in the fall of 2020.
"What is absolutely necessary is to have these (new) school names by the end of the calendar year in order to have signage ready for the 2020 fall opening," Mr. Kamras told the board.
However it is George Mason's tie to slavery that is prompting the new name. George Mason was the main author of the Virginia Declaration of Rights in 1776 that proclaimed the inherent rights of men and later served as the basis for the U.S. Constitution's Bill of Rights, but he owned enslaved Africans.
"... (T)his disqualifies him (Mason) from the honor of having one of our schools named after him," Mr. Kamras stated in his weekly newsletter.
Greene Elementary and Thompson Middle, both former Chesterfield County schools, were named for Chesterfield educators or administrators.
Thompson was combined with Elkhardt Middle School four years ago. The new middle school, to replace Elkhardt-Thompson, is being constructed on the former Elkhardt site on Hull Street Road.
Amelia Street School adopted Thirteen Acres School earlier this year, and the school division is looking for a new name for the combined school.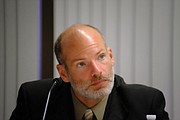 The only School Board member to vote against the renaming plan was 4th District representative Jonathan Young.
During an interview Tuesday, Mr. Young expressed disappointment in his colleagues for not having an honest, candid conversation about reconciling the use of the names of the country's founding fathers but were hypocritical in their personal lives.
"It is hard to reconcile these men's original sin — slavery — all of these years later," Mr. Young said. "That is still part of who we are, especially Richmond, the (former) capital of the Confederacy."
But Mr. Kamras has a contrasting point of view.
"... (T)hose who argue that we're erasing history by changing a school name, I respectfully disagree," he wrote in his weekly newsletter. "School names are different from history textbooks. They're special honors that should inspire – not alienate – our students."
In outlining the renaming process, Shadae Harris, RPS chief engagement officer, said a "renaming team" will be selected for each of the four schools. Each team, to be comprised of students, family members, teachers, support staff, community stakeholders, a School Board member and administration representative, will be charged with reviewing names submitted by the public and selecting three names to submit to the RPS administration for consideration.
Renaming team members will attend community meetings and School Board public hearings in reviewing the names.
The public also can submit possible names through an online portal on the RPS website. All submissions will be posted on the RPS website.
The School Board scheduled two public hearings that will be live streamed on the RPS website. They will be held at 6 p.m. Monday, Nov. 4, and Monday, Nov. 14, at City Hall, 17th floor.
The board is scheduled to vote on four new names at its Dec. 2 meeting.