Cityscape: Slices of life and scenes in Richmond
Solar homes showcased in Carver area
9/20/2019, 6 a.m.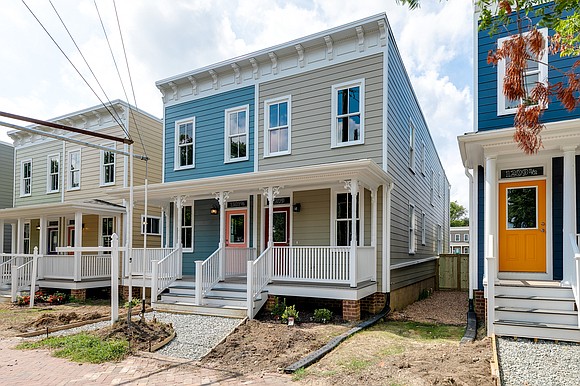 The Carver neighborhood has joined the solar revolution.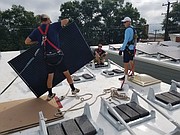 Left, installers put a solar panel in place on the roof of a new home in the 1200 block of West Leigh Street. Below left, a crane brings panels to the crew.
Above is a view of the seven finished two-bedroom- 21⁄2-bath solar homes that were showcased during a Sept. 12 open house by Richmond-based developer project:HOMES.
Energy bills at the homes, which are heavily insulated, are expected to be dramatically reduced because of the amount of power generated by the solar panels.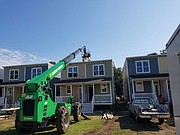 This is one of the few solar neighborhoods — including one in Fulton — built in Richmond. The 1,200-square-foot homes designed by architect David Winn are being offered for sale at $185,000, or around $1,200 month, including mortgage, taxes and insurance. They are targeted for homebuyers making at or below 80 percent of the area median income, currently about $46,000 annually.
project:HOMES plans to add two more solar homes on adjacent Catherine Street by the end of the year. The organization credited the Community Foundation and Wells Fargo Bank with helping to cover the cost of the solar panels.
The development also represents the finish to Richmond's investment in the Neighborhood in Bloom program for the Carver and Newtowne community. Led by the Richmond Redevelopment and Housing Authority, that effort began 20 years ago to help uplift an area just west of Jackson Ward where many houses were in poor condition.
The program included support for renovation of existing homes and development of new homes to fill vacant lots or replace older homes that could not be saved. The program attracted a wave of private apartment development as well as investment from Virginia Commonwealth University.