Climate actions planned for Friday as part of worldwide strike
9/20/2019, 6 a.m.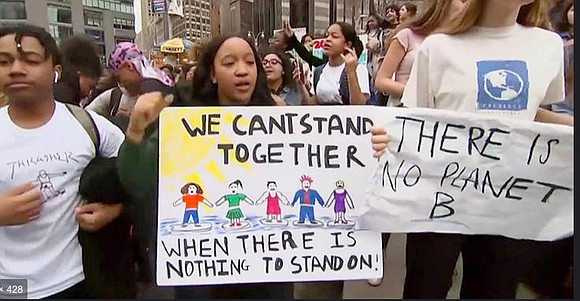 Amid growing worries about climate change, Richmond environmental activists are joining the call for a worldwide strike on Friday, Sept. 20, to urge governments at all levels to get more involved in addressing the issue.
Two separate groups are planning events in Richmond to raise awareness about climate change and to help people get involved.
The Virginia Chapter of U.S. Youth Climate Strike is leading a march to the State Capitol followed by a rally, with hopes that students in the Richmond area will take off from class to participate.
Stephanie Younger of the state chapter has called for participants to gather at 7th and Broad streets by 11:45 a.m. Friday for the march to the Capitol and the rally. Moms Out Front and other organizations are supporting the effort.
Separately, the Richmond Citizens' Climate Lobby, Sunrise Richmond, Richmond XR and other environmental groups are holding an evening demonstration and march to City Hall.
The event will begin with a rally 5 p.m. Friday at Monroe Park that sits between Main and Franklin streets adjacent to Virginia Commonwealth University. Fol- lowing speeches, participants will march at 6:30 p.m. to City Hall, 900 E. Broad St.