MJBL members pitch in for hurricane relief
George Copeland Jr. | 9/20/2019, 6 a.m.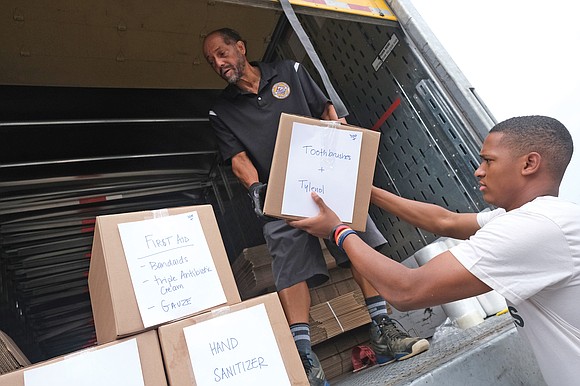 The Metropolitan Junior Baseball League saw a huge turnout from the Richmond community during the group's efforts to collect hurricane relief items last Saturday at The Diamond.
At the end of the day, donations enabled the league to fill 72 boxes with first aid supplies, toothbrushes and more, as well as 33 cases of water to send to residents of the Bahamas who are still recovering from the impact of Hurricane Dorian.
William M.T. Forrester Jr., executive director of the MJBL, said the supplies were delivered to Miami on Wednesday and will be sent to the Bahamas.
The MJBL set up a GoFundMe page to raise the $100,000 necessary to have the items delivered to Miami and onto a relief ship to the Bahamas. However, Mr. Forrester said both companies involved waived the associated costs, allowing the items to be delivered for free.
The money from the online fund, which will remain active for the next couple of weeks, will now go directly to the Bahamas to help further the recovery effort, he said.
"It was great to see it come together the way it did," Mr. Forrester said Tuesday. "We sent over a little bit of everything that they asked for."
Mr. Forrester and the MJBL joined in the humanitarian effort through communications with Nassau Sen. Greg Burrows, who provided a list of items needed on the islands.
The league established a close relationship with the Bahamas earlier this year when MJBL players visited Nassau during the Dr. Martin Luther King Jr. Holiday in January to play the Freedom Farm Baseball League's affiliate teams.
The FFBL returned the favor during the summer, visiting Richmond for the MJBL's annual Inner City Classic.
The MJBL is slated to return to the islands in January for another round of games, Mr. Forrester said.
As part of the humanitarian effort, Sen. Burrows later asked for baseball supplies for children in Freeport and Abaco interested in the sport but lacking proper equipment, Mr. Forrester said. The MJBL provided cleats and baseball gloves, alongside the supplies such as can openers and hand sanitizer donated by Richmond area residents.
"We had a number of players out there helping to receive and package the supplies," Mr. Forrester said of Saturday's collection effort, which also saw support from the Richmond Flying Squirrels and several local television stations.
"It's going to take a long time for things to get back to normal" in the Bahamas, Mr. Forrester said. "But, hopefully, we made a little dent and helped make their lives a little bit better."