Officials warn of e-cigarette dangers as vaping illnesses, deaths mount
Georgia Geen/Capital News Service | 9/20/2019, 6 a.m.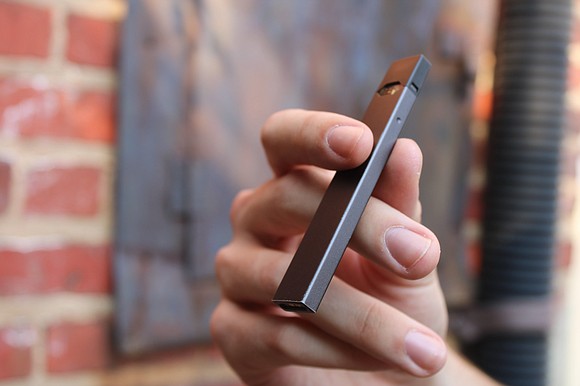 When cases of lung disease linked to vaping began popping up across the country this summer, the Virginia Poison Center in Downtown began receiving calls from people who thought they might have become ill from using e-cigarettes.
"Nobody knows why there's all of a sudden been a cluster," said Dr. S. Rutherfoord Rose, director of the center that is part of VCU Health. "There is an inherent danger, and nobody really knows what that danger is. If you're young and healthy, why risk it? Just stop."
Last week, the Trump administration moved to ban flavored vapes in response to the spike in lung illnesses, the latest in a series of measures nationwide aimed at curbing e-cigarette use.
This summer, a Virginia law went into effect that increased the age to buy cigarettes and other tobacco products from 18 to 21, and Virginia Commonwealth University instituted a smoking ban on its Monroe Park Campus.
Virginia is one of dozens of states with reports of vaping-related illness. Nationwide, officials have linked 380 cases of lung disease and seven deaths to e-cigarettes.
Altria Group, the Henrico-based conglomerate that produces and sells tobacco and related products, is a top investor in Juul Labs Inc., maker of the popular Juul e-cigarettes. On Sept. 9, the U.S. Food and Drug Administration warned Juul about its marketing practices, "including those targeted at students, tribes, health insurers and employers."
"We agree that urgent action is needed, and we look forward to reviewing the guidance," Altria spokesman George Parman said in an email. "Reducing youth use of e-vapor products is a top priority for Altria."
Vaping often has been cast as a safe alternative to cigarettes. But Dr. Rose, who is also a professor at the VCU School of Medicine, said that because the products are so new, there is a lack of data on the long-term use of vaping. As a result, it's "premature" to say e-cigarettes are indeed safer, Dr. Rose said.
"When these things were touted as a safe alternative to cigarettes, that was really only based on the harmful effects of long-term cigarettes. It really wasn't a comparison because there wasn't any data," Dr. Rose said. "There's certainly no data for long- term use of these products; they haven't been around long enough."
Using vapes early on can lead young people to smoke cigarettes in the future, according to a 2015 study.
The U.S. Centers for Disease Control and Prevention has compiled data on e-cigarette use in 37 states and U.S. territories in 2017. The data showed that:
• About 33 percent of Virginia high school students had used an electronic cigarette at some point. That compared with about 42 percent of high school students nationwide.
• About 12 percent of high schoolers in Virginia were current vape users, just below the national average of 13 percent. (The CDC defines a current user as someone who has vaped at least once during the past 30 days.)
• About 3 percent of the state's high school students vaped frequently. That was on par with the national average. (A frequent user is someone who has used e-cigarettes at least 20 days during the past month.)