VUU brings academic 'signing day' to Huguenot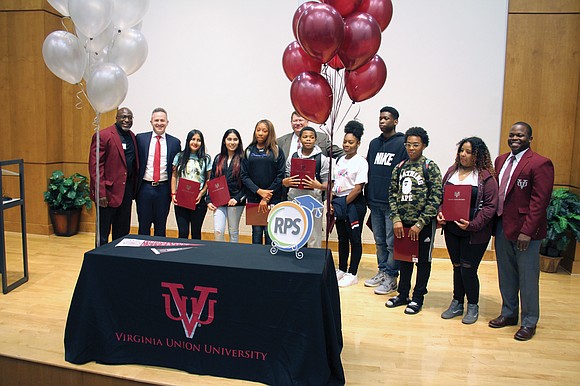 Tuesday was a red-letter day for nine Huguenot High School ninth-graders.
The stage in a school assembly hall was set with red and white balloons and logos for Richmond Public Schools and Virginia Union University.
In a matter of moments, the nine students — five girls and four boys — would learn they were being awarded a full, four-year scholarship to VUU.
The surprise announcement was made by RPS Superintendent Jason Kamras along with Maurice Campbell, VUU's senior vice president of corporate and external affairs, and Mike Newsome, president of the VUU National Alumni Association.
The students, who were brought to the stage for the announcement, showed visible shock and excitement.
"My parents are going to be proud because I put in the hard work last summer writing three essays required to apply for the award," 14-year-old scholarship winner Mekhi Reavis said after the ceremony.
He said he felt good because his family will not have to pay for his college education. Thanks to a partnership established between VUU and RPS in November 2018, 50 students in Richmond schools will receive a full ride for higher education.
The nine honored at Huguenot were just the first winners to be announced this year. All applied at the end of eighth grade by submitting essays by mid-June on topics they selected.
Those chosen must maintain their grades, graduate from high school and meet the minimum requirements to attend VUU. The private HBCU will assign each student a mentor to help them throughout high school.
"This will give 50 (students) who applied an opportunity to go to Union for free — absolutely free," Mr. Kamras said. "This is a feeling of relief for the students and their families knowing college is paid.
"I am very excited that they will get to know Union through mentorships, campus visits, meeting professors as well as the students," he continued. "This will assist them in becoming leaders on campus."
The high cost of a college education is a major barrier that keeps many young people from attending. VUU wanted to use the program to change that and provide opportunity to RPS students who otherwise may not consider higher education.
The annual cost to attend VUU currently is about $27,000, putting the scholarships' value around $108,000.
Shayla Saravia, 14, did not want to go to college. But she heard winning the award would mean the cost would be paid for four years. She said she decided then to apply for the scholarship, noting, "I have to go. I want to study business because I want to be a makeup artist and have my own salon," she said after the ceremony.
Shayla's family is from El Salvador. She said she has never been on the campus of an HBCU and is looking forward to the experience.
A reception and awards celebration will be held for the 50 scholarship winners and their families Saturday, Oct. 5, at the Claude G. Perkins Living and Learning Center on VUU's campus.