Salvation Army Boys and Girls Club becomes temporary shelter for homeless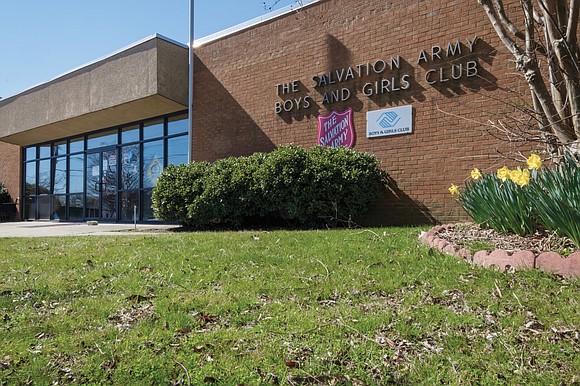 The Salvation Army this week turned its recently renovated Boys and Girls Club in Church Hill into a temporary 75-bed shelter for homeless people.
The club has been closed in recent weeks because of the coronavirus pandemic. The move came as city and nonprofit officials scrambled to find additional space for unsheltered people, including 100 mostly African-American men and women who recently were moved into area hotels and motels for two weeks that are coming to an end.
Many of them came from Cathy's Camp, a tent encampment in Shockoe Valley that the city recently razed.
Despite the relocation of up to 80 people, the encampment site continues to attract those who have no roof over their heads. Between seven and 12 people continue to sleep on the concrete sidewalks and driveway of the adjacent Annie Giles Community Resource Center on Oliver Hill Way.
The center, which serves as the city's winter overflow shelter, stays closed except when the temperature is forecast to drop to 40 degrees, as was the case Tuesday night. The shelter then was open from 7 p.m. to 6 a.m. for those who needed a place to stay that night.
The conversion of the Boys and Girls Club at 3701 R St. into a temporary home for those in need is providing relief for other crowded, nonprofit shelters, allowing people considered at higher risk for catching coronavirus to be moved from other sites and freeing up some of their beds for newcomers.
The Salvation Army, which operates a shelter in Downtown for 55 men, women and families, stated in its announcement that people relocated to the Church Hill club would find clean bedding, showers, health care screenings and three daily meals.
While that will help provide more room, more is needed, officials said.
"We are still working to bring on more shelter capacity and to connect people to housing when possible," wrote Kelly King Horne, executive director of Homeward, the regional coordinating and planning group for the Greater Richmond Continuum of Care for homeless services.
Among other options, Richmond Public Schools has offered two vacant buildings, the Albert V. Norrell Annex in North Side and Clark Springs Elementary School in the near West End, as potential sites to house homeless people for 90 days, it has been learned.
"I don't think that would be an appropriate use of those buildings," 2nd District City Councilwoman Kim B. Gray said Tuesday. "Not when we have plenty of other spaces, such as the Richmond Coliseum and the Richmond Convention Center, that are much closer to VCU's medical facilities and are not in residential areas."
In a series of text messages, Ms. Horne stated, "We are hoping to reduce" the number of people temporarily housed in motels and hotels "as additional options come online."
Among the options is permanent housing that is allowing five people to move from a shelter into a home. But there is no expectation that will happen for large numbers of people in shelters given the cost.