Hard hit again
George Copeland Jr. | 4/9/2020, 6 p.m.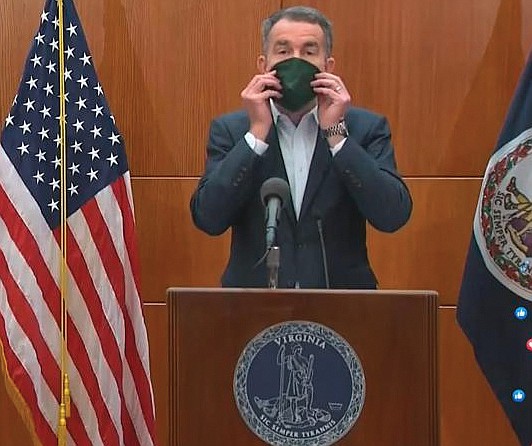 It has been a week of recalculation and assessment, as Virginians collectively and individually continue to work to avoid the spread of COVID-19 amid new evidence that African-Americans and Latinos are being hard hit.
Information released by the Virginia Department of Health on Wednesday confirmed 3,645 positive cases of COVID-19 in the state, with 615 hospitalizations and 75 deaths, including 32 at the Canterbury Reha- bilitation and Health Care Center in Henrico County, a center that once boasted of introducing a level of post-hospitalization care.
Breakdowns of figures on deaths by race and ethnic group have been hard to come by nationally. But several states and cities, including Illinois, Michigan, Louisiana, Connecticut and Las Vegas, have reported that African-Americans and other minority groups have been disparately stricken by COVID-19.
Congress and private organizations such as the NAACP have been pressing the U.S. Centers for Disease Control and Prevention to release such de- mographic information, but so far to no avail.
Virginia is among fewer than 12 states reporting data on the race or ethnicity of those testing positive and dying with the disease.
While the figures are incomplete, as of Monday, African-Americans accounted for 28 percent of Virginia's confirmed cases, while African-Americans comprise 20 percent of the state's population, according to state Health Commissioner M. Norman Oliver.
Another 12 percent of the confirmed cases involve Latinos, Dr. Oliver reported, also higher for a group that represents 9 percent of the state's population.
Of those who have died of COVID-19 in Virginia, 18.7 are African-American and 0.04 percent are Latino.
Dr. Oliver said the data likely under represents the situation largely because of the difficulty in collecting information on the race or ethnicity of those who are tested.
No data on race or ethnicity is available for 54 percent of the people who have tested positive in the state, Dr. Oliver said.
He said the current pandemic has exposed problems in the way data on test specimens and death is reported. He said he and other state health officials are working to improve the reporting from health providers and private testing labs to have more complete data and to better track the impact on specific communities.
"We know that long-standing racial inequities in things like access to health care, education and economic opportunities lead to differences in underlying health conditions," which puts people at greater risk for contracting coronavirus, Gov. Ralph S. Northam said during Wednesday's briefing. "We need clear data about what this means in Virginia."
In response to the pace of infection in the state, the CDC has listed Virginia as a state with widespread community transmission.
Information from the state Division of Consolidated Laboratory Services, developed in partnership with the CDC and international and university partners, has helped affirm the CDC's view that the virus was introduced into Virginia at multiple locations, rather than originating at a single site or with a single source.
The CDC also issued new guidance urging everyone to wear some kind of nose and mouth covering, even if handmade, when outdoors. The guidance is the result of new findings from the National Academy of Science that infected people who appear healthy can spread the virus even if they show no symptoms and that such people can do so by just talking or breathing on someone else. Previously, it was thought the virus was transmitted through droplets produced by coughing or sneezing.