State officials: Va. ready to handle coronavirus
George Copeland Jr. and Ronald E. Carrington | 3/6/2020, 6 a.m.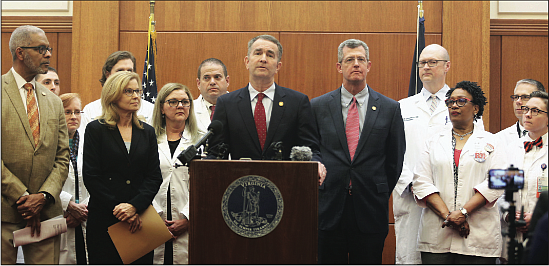 Virginia officials stressed the state's readiness to confront any cases of COVID-19, also known as the coronavirus, during a news conference Wednesday morning at a state office building in Downtown.
"My top priority is to keep Virginians safe," said Gov. Ralph S. Northam. "There have been no positive cases of the corona- virus in Virginia."
Gov. Northam, who is a physician, was flanked by about 10 state officials, including state Health Commissioner Dr. M. Norman Oliver and State Epidemiologist Dr. Lilian Peake, who is leading the state's incident management team, as they offered information to bolster public confidence and quell any fears about the state's ability to deal with the global health threat.
The United States is on high alert as the death toll nationally reached 11 on Wednesday, with more than 130 confirmed cases of coronavirus in about 15 states, including North Carolina. All but one of the deaths occurred in the state of Washington.
Los Angeles officials declared a state of emergency Wednesday and lawmakers in Washington struck a deal for a $8.3 billion funding package to combat coronavirus.
The World Health Organization said Tuesday that the death rate from the virus is higher than initially thought.
Globally, there are nearly 91,000 reported cases of coronavirus, with more than 3,100 deaths, according to WHO officials. The coronavirus fatality rate of 3.4 percent is higher than that of the seasonal flu, officials said, which generally kills far fewer than 1 percent of those infected.
In Virginia, officials said plans to address coronavirus were set in motion in early January, when the virus was first identified. A team of experts was put into place, led by Dr. Peake, who was head of the state health district in Charlottesville during the H1N1 influenza outbreak, or swine flu pandemic, in 2009. Dr. Peake also is medical director for the preparedness program at the Virginia Department of Health.
The state health department is closely monitoring the virus, officials said Wednesday. Testing of potential cases is being conducted by the state Division of Consolidated Laboratory Services, officials said, allowing results to be generated within hours, rather than relying on the Centers for Disease Control in Atlanta for test results, which would take longer.
Currently, the state is using two test kits, with each kit able to test approximately 50 to 60 people, according to Dr. Denise Toney, director of the state lab.
Gov. Northam also noted Virginia's high ranking among states in recent reports by independent agencies on hospital safety, emergency preparedness and public health lab testing capacity.
Officials also warned against spreading misinformation about the virus and its effects and against stigmatizing people, particularly Asian-Americans and people of Asian descent.
The coronavirus was initially found in Wuhan, China, where residents there and in other cities in Hubei Province have been on lockdown for weeks in an effort by Chinese officials to quarantine the epicenter of the outbreak.
A variety of measures are underway in U.S. communities to combat fears and concerns. New York Gov. Andrew Cuomo on Monday moved to require insurers to waive the cost individuals must pay for coronavirus tests, in hopes of encouraging New Yorkers who are avoiding testing because of the cost. Two cases of coronavirus already have been reported in New York.
In Virginia, 328 people have been monitored for signs of coronavirus, with 106 cases ongoing and three test results currently pending, according to the state health department's website.
In his weekly online newsletter, Richmond Public Schools Superintendent Jason Kamras noted that following his discussions with Dr. Danny Avula, director of the Richmond and Henrico health districts, schools will undergo more frequent cleaning, particularly of desks, chairs, door handles, light switches and other surfaces that could carry the virus.
He also stressed the importance of school bathrooms being fully stocked with soap, hand sanitizer and paper towels.
He also reminded families and school staff that anyone with flu-like symptoms should remain at home.
Tips to avoid contracting coronavirus
State health officials offered the following tips to prevent the potential spread of coronavirus:
• Avoid close contact with people who are sick.
• Avoid touching your eyes, nose and mouth with unwashed hands.
• Wash your hands often with soap and warm water for at least 20 seconds. • Use alcohol-based hand sanitizer that contains at least 60 percent alcohol if soap and water are unavailable.
• Cover your cough or sneeze with a tissue, then throw the tissue in the trash. • Clean and disinfect frequently touched surfaces and objects, such as toys, doorknobs and electronics, especially if someone is sick.
• Stay home if you are sick.
Websites for information and updates:
www.vdh.virginia.... www.cdc.gov/coron... www.who.int/emerg... www.vhha.com/reso...