Personality: Dr. Kristin E. Reed
Spotlight on chair of the interim governing board of Richmond For All
4/9/2020, 6 p.m.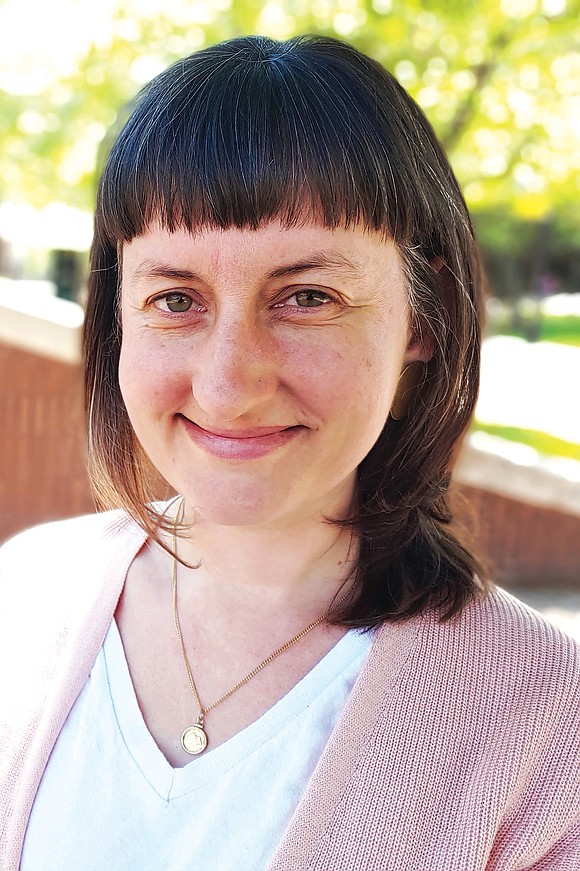 The first week under Virginia's stay-at-home order was a time of preparation and isolation for many Richmond residents. For Dr. Kristin E. Reed, it was made up of efforts to educate the public, ensure political transparency and accessibility and build a fairer, more equitable Richmond – and she wasn't alone in that work.
Dr. Reed is chair of the interim governing board of Richmond For All, an independent organization founded in late 2018 that works to build progressive political power around a wide range of issues, from housing to education and racial justice, with a multiracial focus and financial autonomy.
"Our city already has organizations committed to advocacy for more justice, but our city needs a vehicle for building political power and tackling the root causes of the many injustices we face," says Dr. Reed, who is on the faculty at Virginia Commonwealth University.
The organization seems like a fit for Dr. Reed, who hails from a family of teachers, school bus drivers and social workers involved in a culture of service.
Richmond For All has had plenty to do since its inception, from advocating for expanded school funding on the state and local level to organizing against using city tax dollars to fund the $1.5 billion Coliseum replacement and Downtown redevelopment plan proposed by Navy Hill District Corp. and championed by Mayor Levar M. Stoney.
And even in the midst of a pandemic, with the ability to gather and organize in person stymied by health safety guidelines, Dr. Reed and fellow members are as busy as ever, finding the need for their advocacy is even greater.
"The biggest threat the pandemic presents to democracy is pushing the public out of the process of governance," Dr. Reed says. "We believe Richmonders need a clear say in how their government responds to this crisis."
Along those lines, Richmond For All sent a letter to City Council last week calling for open governance practices during the stay-at-home order, to ensure a transparent and accessible political process during a time when the coronavirus impedes public access to meetings and officials.
The next day, Richmond For All reached out to the state Department of Elections for support of the city's municipal elections, hoping for the adoption of alternative methods for candidates to gather signatures before the June 9 filing deadline.
"The stay-at-home order will remain in effect at a minimum until June 10," Dr. Reed explains. "The deadline for candidates for Richmond's municipal elections to file with the city voter registrar is June 9. Candidates who have not yet raised signatures for eligibility will face serious challenges getting on the ballot by June 9. No one wants candidates canvassing during a pandemic. We hope the state will offer a digital method of collecting signatures, preserving open access to the ballot for all candidates."
Last Friday, the group, alongside local lawyers and housing advocates, answered questions from area residents dealing with job loss, trouble with landlords and fear of eviction as part of a live, online Q&A, ahead of a potential rent strike.
These and other activities continue as more state and local measures addressing the effects of the pandemic are likely on the horizon. Dr. Reed fears that the impact of some changes because of coronavirus may do long-lasting harm to Virginia. That makes the organization's mission and purpose even more important.
"It's a rare opportunity to build solidarity across issues," Dr. Reed says of the organization. "When people build connections across issues, it totally changes what is possible."
Meet an advocate for de- mocracy and the community, and this week's Personality, Dr. Kristin E. Reed:
Occupation: Associate professor, Virginia Commonwealth University.
Community involvement: Chair of the interim governing board, Richmond For All.
Date and place of birth: April 24 in Bryan Ohio.
Current residence: Church Hill.
Education: Bachelor's in English literature, James Madison University, 2002; and Ph.D. in comparative literature, Indiana University, 2009.
Family: I have a large family spread across Indiana, Ohio, West Virginia and Virginia. I live in Richmond with my boyfriend Gary, our dear friend, Jasmine, and three very wild dogs.
Richmond For All is: An independent political organization fighting for housing, education and racial justice.
When founded: December 2018.
When elected chair: March 2020.
Foremost mission: Building progressive political power in Richmond.
Why I am excited about Richmond For All: It's a rare opportunity to build solidarity across issues. At Richmond For All, we've had tremendous luck ringing public school- teachers to public housing fights, and public housing residents and organizers to public school fights. When people build connections across issues, it totally changes what is possible.
Number of members: 164.
Size of budget: Approximately $30,000 annually.
Number of staff: We have no paid staff members, but we have a seven-person volunteer board and approximately 80 volunteer staff members who commit at least four hours of work a month to the organization.
Dues: Our members pay dues commensurate with their resources. Most members pay between $2 and $12 monthly.
Why this organization is necessary: Our city already has organizations committed to advocacy for more justice, but our city needs a vehicle for building political power and tackling the root causes of the many injustices we face. Richmond For All is designed to be a multiracial movement that generates its own financial and labor resources. We believe multiracial movements are a necessary vehicle for building power because they unite communities that have been deliberately historically divided. We believe financially independent movements are necessary because they are free to tackle any issue, even if it means opposing people with tremendous power.
Our biggest challenge: Cynicism. Movements thrive on hope, and for many it can be hard at this moment in our country to feel hopeful.
What democracy means to me: That we have a shared destiny, and that each individual can play a role in shaping it.
Response to Richmond City Council remote meetings: I am very encouraged that City Council has committed to some of the basic practices of democratic governance during the stay-at-home order, including preserving open meetings, public notice and public comment. We don't yet fully know what that will look like, but I feel hopeful. Anytime technology becomes a prerequisite to participation in public process, there are two risks: Privatization and exclusion.
Purpose of Richmond For All: Our organization has been a very active participant in both City Council and Richmond School Board meetings for some time. As the effects of COVID-19 spread, affecting all of our lives in many ways, our members and volunteers found themselves overwhelmed with the process of adapting to rapid changes in employment, housing, the education of their children, etc. We believe this is likely true for all Richmonders, and we wanted to push our elected officials to state a clear and uncompromising commitment to public process, and also let us know quickly what that would look like. Our members have a long list of questions about the city budget, school governance, etc. We need to know where and how we can have those questions answered.
Issues Richmond For All is involved with: Richmond For All is organizing for more just outcomes in public education, housing, economic development, employment and democratic governance.
Stands organization has taken: Richmond For All formally opposed privatization of public resources and services, and has advocated for more transparency and democracy in city government. We believe elected School Boards are the primary vehicle for community governance of schools, and have pushed for the authority of the board to be respected by city government and by school administration.
We have advocated for more funding for schools at both the city and the state level, and have advocated for an open, needs-based budget process for determining the Richmond Public Schools budget.
We advocated against the use of tax revenue to finance the development of a new Coliseum downtown.
We opposed presidential candidate Mike Bloomberg's keynote address at the state Democratic Party's annual gala.
Issues involving Richmond Public Schools: Many members of Richmond For All are public school parents and educa- tors. Public education is a key issue for our organization. We oppose privatization of public education, school closures and defunding mechanisms locally and statewide. We strongly support expanding support staff in schools and limiting school disciplinary practices that subject youth to arrest or criminal citations.
Activities involving COVID- 19: While Richmond For All members and volunteer staff are engaged in a wide variety of COVID-19 efforts, our organization has focused on using social media to provide support for members of the community facing economic insecurity as a result of the pandemic. We have hosted two live video webinars, the first offering consultation with a labor organizer for individuals who have been fired or lost hours, the second offering consultation with housing organizers and attorneys for individuals unable to pay rent, facing eviction or otherwise facing adverse actions from their landlords.
How we get the word out: Our team spreads the word through active social media engagement and person-to-person organizing. When we are not under a stay-at-home order, we have a very active neighborhood canvassing program.
Level of response: Richmonders citywide have been very engaged with our organization and have responded in a wide variety of ways, from showing support when we come to City Council meetings to joining officially as members.
Opinion of city's response to pandemic: While our organization is cautiously optimistic about City Council's ordinance preserving democratic meetings during the stay-at-home order, we are concerned about other aspects of the city's response, particularly the heartbreaking demolition of the Cathy's Camp site. We have a lot of questions and concerns about city response with regard to other vulnerable populations, especially public housing residents. We have seen a pattern of neglect by city officials of public housing residents in questions central to their daily lives, including issues as large as school rezoning and housing demolition. We are very concerned about how this pattern will play out as we wait to see how governance of public housing will evolve under a stay-at-home order. We have already seen reports of increased policing of RRHA properties. We do not believe this is the best use of resources during a public health crisis.
Opinion of state's response to pandemic: We appreciate Gov. Ralph S. Northam's swift action reducing public transmission of the virus through a stay-at-home order, and we're very happy to see the rapid expansion of unemployment benefits at the state level. We believe the state could do more to provide economic stimulus for the public during this period, though, and we strongly caution against implementation of austerity measures that will harm those most affected by the pandemic. The governor has alluded to cuts in education spending and a delay in implementation of the state's raised minimum wage. These actions would further harm those already most affected – public school families and low-income workers.
Biggest shortcoming: I fear the biggest shortcomings in our state response to this pandemic are yet to come. If the governor follows through with his threats to cut wages and education spending, our communities will feel the effects for generations.
Threat from pandemic to democracy: The biggest threat the pandemic presents to democracy is pushing the public out of the process of governance. Virginia has a long history of voter disenfranchisement. Any crisis like this threatens to compound existing inequalities.
Why I am concerned: When the democratic process erodes, it does so unevenly. The most vulnerable members of our community will be affected first.
How I start the day: Each day I remind myself that hope is a discipline. It won't simply find us. We have to invite it back.
Three words that best describe me: I am very sorry, but I struggled with this question. My roommates intervened and agreed that I am both stubborn and compassionate.
A quote that I am inspired by:"From these pages I hope at least the following will endure: my trust in the people, and my faith in men and women, and in the creation of a world in which it will be easier to love." – Paulo Freire, introduction to "Pedagogy of the Oppressed"
Best late-night snack: Hot chocolate.
Best thing my parents ever taught me: My parents taught me to continue to work on something, even if it doesn't come easily at first. I learned a tremendous amount of patience from that, and I learned how much more rewarding work can be once you've developed the skills needed to do it well.
Person who influenced me the most: My aunt, who is a lifelong public schoolteacher and served as president of her local educators union. She works in a very rural district, where community means everything and neighbors keep each other cared for and safe. I never saw her face a challenge she didn't believe people could solve themselves, and I always knew her to have space in her home and at her table for anyone who needed it.
The book that influenced me the most: "Pedagogy of the Oppressed" by Paulo Freire.
What I'm reading now: "Towards Land, Work & Power" by Jaron Browne. It's a book about building community power by an organization in San Francisco called People Organized to Win Employment Rights (POWER).
The one thing that I've learned in life is: People who are united can accomplish anything.
My next goal: I am teaching remotely during the stay-at-home order, and I miss my students very badly. My biggest goal is to be back in the classroom as soon as possible.