GRTC gets $32 million infusion from federal CARES Act, keeping rides free
4/30/2020, 6 p.m.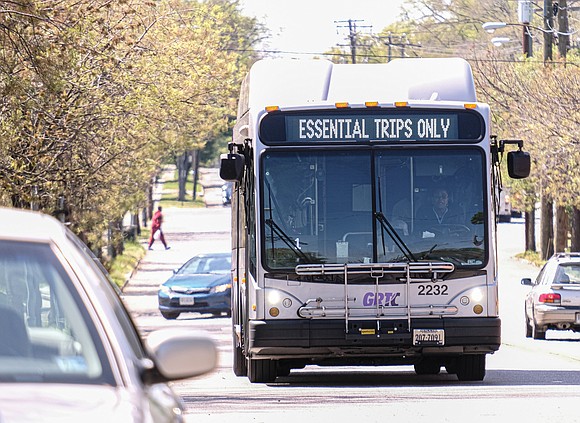 Free fares on GRTC buses will continue through June 30 and could be extended at least through Dec. 30, according to information provided April 21 to the transit system's board.
The city's public transit system suddenly is flush with cash — with at least $32 million in stimulus funding from the federal CARES Act — and has less concern at the moment about maintaining service without the $500,000 a month in fare income, the board was told.
Julie Timm, chief executive officer of GRTC, explained that the federal infusion of cash, along with other new funding, should ensure the essential transportation service can keep running without fares as long as the drivers and maintenance staff continue to show up.
Richmond got a taste of what would happen if the unionized drivers stop working when at least 46 drivers called in sick Sunday and stayed home Monday, forcing GRTC to cut back to hourly service on regular routes most of Monday.
Pulse service also was slowed, although most of the drivers assigned to the rapid transit system came to work, GRTC spokeswoman Carrie Rose Pace stated. CARE Van service was not affected, she added.
Despite claims from GRTC that the protest amounted to an illegal work stoppage, Maurice Carter, president of Amalgamated Transit Union Local 1220, said the sickout was not sanctioned. He said drivers arranged the protest on their own to call attention to GRTC's failure to heed a union request for greater driver health protection by requiring all passengers to wear masks or mouth and nose coverings. The drivers also rejected GRTC's offer of a 50 cents an hour increase for hazardous duty pay during the coronavirus pandemic.
Drivers returned to work Tuesday to the relief of the company, but Mr. Carter said the union would continue to negotiate on the mask issue and for hazardous pay.
In a last-ditch effort Sunday evening to prevent the sickout, Ms. Timm issued a memo to company employees announcing that she was awarding bonuses of $300 to $500 for drivers and other workers that would appear in May checks. She did not address the mask issue.
Ms. Timm stated the bonuses are the best the company could do for now in rejecting an April 20 request from Mr. Carter calling for drivers to receive time-and-a-half for all hours worked. He later requested $6 an hour. The case for hazard pay improved Wednesday when Mr. Carter reported the first driver to test positive for for COVID-19. The driver is in quarantine, he said, but it shows the risk drivers face.
Despite the influx of funds, Ms. Timm stated that GRTC could struggle if the economy plunges into a recession. She said the company needs to be careful with the extra money to avoid layoffs and service cuts if there is no recovery.
The drivers, who make between $15.50 and $23.84 an hour, are generally unimpressed with the bonus.
"The bonus is nice but it won't amount to much after taxes," one driver said. "We deserve better. Kroger is paying their workers an extra $2 an hour, and we deserve at least a $1 an hour increase, not 50 cents."