Richmond Kickers to take on Greenville Triumph this Saturday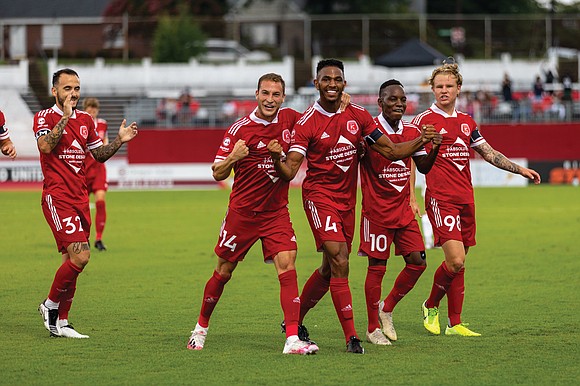 It's OK if Richmonders can't travel to see the world because the local soccer pros have brought the world to Richmond.
The Richmond Kickers boast a roster rich with international flavor.
Playing at Richmond City Stadium, Coach Darren Sa- watzky's squad showcases talent from eight nations and five continents.
Players come from Brazil, Colombia, Argentina, Ghana, Zambia, Sweden and Japan, in addition to the United States.
Among the most exciting is dynamic midfielder Mutaya Mwape. The Zambia native is the Kickers' shortest player at 5-foot-6, but likely the swiftest and most versatile.
Mwape excels in creating opportunities for Kickers scores and in foiling the opposition's plan to attack the goal.
Then there is goal-scoring megastar Emiliano Terzaghi from Buenos Aires, Argentina. The 26-year-old has four of the squad's six goals and has put the ball in the net in each of Richmond's last three victories.
Other goals have been scored by Brazilian Ivan Magalhães, Matt Bolduc from Massachusetts and Californian Ryley Kraft.
Kickers kickoff
The Richmond Kickers, now 3-1-1, will play host to the Greenville Triumph of South Carolina 6:30 p.m. Saturday, Aug. 29, at Richmond City Stadium, 3201 Maplewood Ave.
Founded in 1993, the Richmond Kickers compete in the USL League One. Other entries are Fort Lauderdale, Fla.; Orlando, Fla.; Tucson, Ariz.; New England; Chattanooga, Tenn.; North Texas; Omaha, Neb.; Madison, Wis.; Toronto; Ontario; South Georgia; and Greenville.
The team is proceeding with caution during the global pandemic.
Spectators are required to wear masks and attendance is capped at 1,000 counting players, coaches and working personnel. Last year, the Kick- ers averaged about 3,500 fans for home games.
Richmond's most vocal fan group is the River City Red Army, which offers passionate support — with drums and smoke — from City Stadium's Section O.
Richmond's franchise chairman is Robert Ukrop, a former Kickers' star player.
The season will continue until Oct. 24. The top two teams during regular season will square off for the playoffs championship.
Games are televised on WTVR-CBS 6, Comcast 206 and Verizon Fios 466.