Former Newport News Delegate Mamye BaCote, a member of the Richmond 34, dies at 81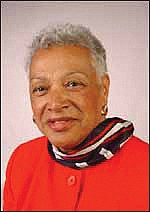 As a student at Virginia Union University, Mamye Edmondson BaCote took part in the lunch counter sit-ins led by VUU students to end whites-only, sit-down service at restaurants and lunch counters in Downtown.
Later in life, she would help make the laws impacting people's lives during her 12 years representing Newport News in the Virginia General Assembly.
"She really believed in public service and wanted to make a difference," said her son, Theodore BaCote III.
"She devoted her life to our community," Congressman Robert C. "Bobby" Scott of Newport News stated. "She was able to bring about real change."
Her successor in the legislature, Delegate Marcia S. Price, added that Mrs. BaCote became a champion "for people who had no voice."
An educator and the sister of the late Dr. Grace E. Harris, who rose to become provost at Virginia Commonwealth University, Mrs. BaCote is being remembered for her many contributions to the state and Newport News following her death on Monday, Dec. 14, 2020. She was 81.
A service celebrating her life will be private.
Born in Halifax County, Mrs. BaCote, who earned her un- dergraduate degree from VUU and a master's from Hampton University, was best known for her service in the House of Delegates.
First elected in 2003, she served through 2015 and was a member of the House Appropriations Committee, where she was credited with fighting for funding for her community, for special education, for a drug court diversion program and for programs to reduce inequities in health care.
Mrs. BaCote began her political career following her retire- ment in 1994 from a 32-year career of teaching in Newport News Public Schools. She continued teaching, however, for 13 years through 2007 as an adjunct professor of political science at Hampton University.
Two years later at 58, she successfully won a seat on the Newport News City Council. She served on the council from 1996 to 2003, when she entered the race to replace Flora D. Crittenden in the House of Delegates.
Mrs. BaCote teamed with now Hampton state Sen. Mamie Locke, who also was seeking a House seat. "We ran as the M&M team, and we handed out M&Ms to voters,'' Sen. Locke recalled.
Persistence was Mrs. BaCote's trademark, Sen. Locke stated. "She would come every year with a bill to keep guns out of libraries" even though at the time everyone knew it would not get out of committee, the senator said.
Before her death, Mrs. BaCote saw legislation allowing local governments to ban guns from libraries and other public build- ings finally pass and signed into law.
Mrs. BaCote was one of the Richmond 34, the VUU students who conducted sit-ins at places like Thalhimer's and Woolworth's in 1960 to fight the whites-only service at their lunch counters and restaurant. She would talk about the civil rights action and how white people called the students names, threw ketchup at them and finally had them arrested for trespassing, according to Richmond state Sen. Jennifer L. McClellan.
Mrs. BaCote brought members of the House of Delegates to tears and received a standing ovation after she talked about her experience during a floor speech on the 50th anniversary of the protest in 2010.
Ultimately, a U.S. Supreme Court decision led to the trespass convictions of sit-in participants being thrown out in finding racially segregated public accommodations violated the U.S. Constitution.
Mrs. BaCote met her late husband, Theodore "Ted" Edward BaCote Jr., at VUU, where he was captain of the football team and she was a cheerleader. A longtime high school football coach in Newport News, he died in 2009.
She was a member of Alpha Kappa Alpha Sorority and St. Vincent De Paul Catholic Church in Newport News.
Survivors include two other sons, Derek and Marlon BaCote.