Mothers Club comes to an end after 66 years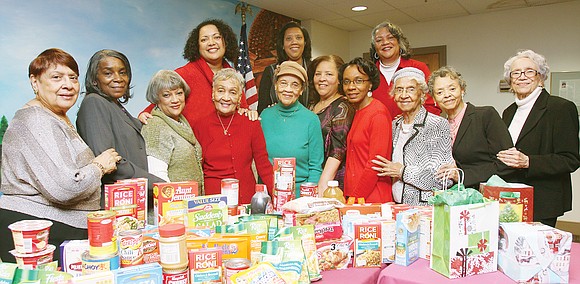 After 66 years of donating to charities, helping individuals and organizations in the Richmond community and building a strong bond of friendship among their members and children, The Mothers Club has disbanded.
The group, which started with 10 women who were friends and young mothers, began meeting monthly in 1954 to share their experiences and tips as new mothers. The meetings evolved into doing more than discussing their children. They branched out to do things to help the community.
Their spirit to do more outside of their friendship circle had a clear motto – "Bringing joy to the lives of those we touch" – that guided them throughout their six decades as they helped area families in need, senior centers and children and families facing medical issues and other nonprofit organizations.
The Mothers Club, which opened its membership in 1998 to their daughters and daughters-in-law, had its last hurrah during a Zoom meeting Nov. 22.
Grace H. Townes, one of the club's historians, said the passion to help others has never waned, but the original mothers, many of them educators, weighed their ability to be active against their advanced age and felt they needed to close down the club.
Those activities included volunteering at the Medical College of Virginia's Hospital Hospitality House in Downtown, now called The Doorways, that provides lodging and support for families and patients undergoing treatment at the hospital; supporting Camp Bright Moments that offers youngsters with sickle cell disease a summer camping adventure; selecting people and families to help during Christmas; and donating annually to the Children's Miracle Network.
As children of The Mothers Club grew, the youngsters were organized into their own group called "Lads and Lassies." They had their own community service and social activities, including donating books to the public library, organizing
holiday parties and community outreach events for the young and old, as well as taking cultural enrichment trips to museums.
"For some, the Lads and Lassies were our first friends," recalled Mrs. Townes' daughter, Lisa Townes, a council liaison to outgoing City Councilman Chris Hilbert. "Now they are my longest and dearest friends."
By the same token, she added, the group provided the climate to understand the importance and significance of giving service to others.
Kathie Furman-Teasley, one of the original members of the Lads and Lassies, has fond memories of the youngsters' activities, some of which were limited because of segregation and lingering Jim Crow.
"We gave toys and books to children in Richmond Community Hospital and the Boys and Girls Home," Ms. Furman-Teasley said. "That gave warmth to our hearts as we were able to help other children around our age."
As time has marched on, Ms. Townes said, the children of The Mothers Club members have ventured out into the world in different personal and professional directions and are not able to carry on the mission of the club.
However, The Mothers Club friendships are far from over, several said, and some members will continue to do what they can to bring joy to the lives of those they touch.