Personality: David Mickens
Spotlight on president of local chapter of Buffalo Soldiers Motorcycle Club
6/29/2018, 4:40 p.m.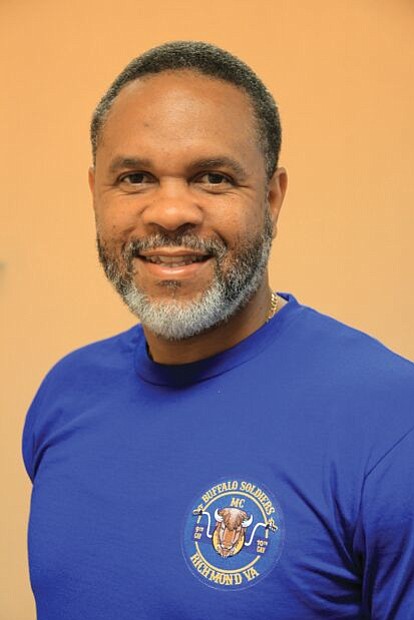 Richmond's Buffalo Soldiers Motorcycle Club rides for a reason and a cause — to make a difference in Richmond and across the country.
David Mickens, the club's president until 2019, says "their mission is to carry on the legacy and honor of two United States African American regiments known as the Buffalo Soldiers."
The club's name has historical significance. In 1866, six all-black cavalry and infantry regiments were created after Congress passed the Army Organization Act. Buffalo Soldiers mainly served on the Western frontier following the American Civil War.
Their main tasks were to patrol the Plains of the Native Americans, capture cattle rustlers and thieves and protect settlers, stagecoaches, wagon trains and railroad crews in the West.
The Buffalo Soldier regiments were disbanded when all military services were integrated, but their legacy lives on. Mr. Mickens says, "We are commemorating this brave group of soldiers and heroes that protected Americans out West."
The Buffalo Soldiers Motorcycle Club is one of the biggest black motorcycle clubs in the nation, with 97 chapters and more than 2,000 members across the country.
Earlier this year, the bike club partnered with Jessica Stern and her Connect Our Kids Foundation, a non-profit organization that is building intelligent software to find families for foster children.

This new partnership will hold its inaugural "Ride Through Richmond & Picnic In The Park" in support of Connect Our Kids, this Saturday, June 30, starting 10:30 a.m. at Steel Horse Harley-Davidson in Midlothian and ending with a picnic at Byrd Park in Richmond.
Foster care hits home for Mr. Mickens. His mother, Wayvonne, and her twin brother, Carlton, were placed in foster care after their mother passed away from pneumonia shortly after they were born.
"She experienced abuse and was not in a warm environment," Mr. Mickens says. "She met my father, Carlton Mickens, in high school. They connected and she moved on with her life."
For Mr. Mickens and the motorcylce club members, the Buffalo Soldier legacy of heroism has translated into community service. The club, as a charitable organization, supports the military and civilian communities.
They have organized events at McGuire Veterans Medical Center on Broad Rock Road in Richmond's South Side and rode their motorcycles to the hospital.
"The patients love to see us ride up in formation and they come out to look over all of the different kinds of motorcycles," Mr. Mickens says. "Then we have a cookout and feed the patients and staff."
There are more than 300 foster kids in city of Richmond, and more than 400,000 nationwide. "The Buffalo Soldiers' aim is to keep the memory of our ancestors alive by serving the children in our community," Mr. Mickens says.
A father himself to two children, David, Jr., 26, and Bryana, 24, Mr. Mickens has been a member of the chapter since 2004 when a neighbor invited him to meeting. He got to know them and rode with them. The rest is history.
The Richmond Chapter is comprised of a lot of people from different walks of life, many in their 40s and older – all income ranges and professions. After joining, Mr. Mickens wanted to step into a leadership role. In 2013, he was elected vice president and served for four years. As president, one of his goals is to attract new members and expand the group's demographics.