Area historian awarded $10,000 grant for documentary on Virginia Randolph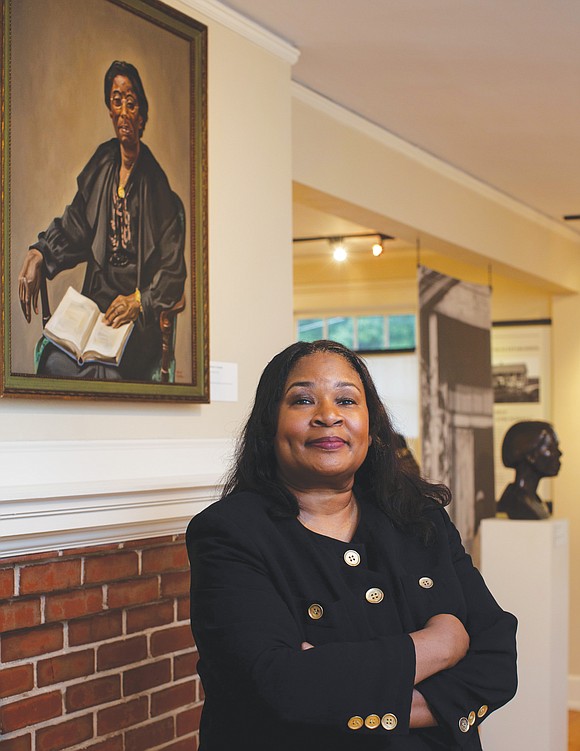 Historian Elvatrice Belsches' 20-year dream to make a documentary about noted educator Virginia E. Randolph is getting an initial boost with a $10,000 grant from Virginia Humanities to support the research and development of a script.
"This is a three-fold project," Ms. Belsches told the Free Press. "It will include a publication, the documentary and an oral history archive."
The grant will help with researching photographs and manuscripts from across the country, as well as shooting about 10 core interviews and production of a 2- to 3-minute trailer, Ms. Belsches said.
David Bearinger, senior director of the grants program at Virginia Humanities, stated that the nonprofit is funding the documentary because of "our desire to see an important story told" and its potential use in classrooms.
"Ms. Randolph's impact on the history of education in Virginia — and on the lives of her students — was profound. Her influence extends nationally and even internationally, but her story is not well known today," Mr. Bearinger said.
Contrary to previous accounts, Ms. Randolph was born in Richmond in 1870 and lived in the Jackson Ward and Carver neighborhoods all of her life, according to Ms. Belsches. As an educator, Ms. Randolph integrated vocational and industrial education with the academic curriculum. Her approach to education, which was observed in her one-room schoolhouse on Old Mountain Road in Henrico County, led to her appointment as the first Jeanes Supervising Industrial Teacher in 1908.
Her innovative teaching methods then were replicated by Jeanes teachers throughout the South. Thousands of students throughout Virginia, the South and later in parts of colonial Africa and Southeast Asia were taught using Ms. Randolph's teaching philosophies and techniques.
The school on Mountain Road in Henrico was named for Ms. Randolph in 1915.
The documentary also will highlight Ms. Randolph's contributions to public health initiatives, juvenile justice advocacy and interracial coalition building, Ms. Belsches said.
"Her contributions in these areas were astounding," Ms. Belsches said. "And they can serve as a blueprint for addressing some of our most challenging issues of today."
Ms. Belsches started her journey to produce a documentary on Ms. Randolph and her life and work 20 years ago when she accompanied her father, the late Ernest Parker Sr., to a presentation by Warner M. Jones Sr. a historian, retired educator and former principal of Virginia Randolph Elementary School.
In his presentation, "Mr. Jones brought Virginia Randolph to life for me," Ms. Belsches said. "And that's when I told my father and made a commitment to produce a documentary on her."
Mr. Parker, a mathematics teacher, taught at Virginia Randolph High School from 1955 to 1969, and interacted with Ms. Randolph on her occasional visits to the school before her death in 1958.
"My Dad told my siblings and me stories about the importance and impact of Virginia Randolph, as well as about the high school students' scholastic excellence during segregation," Ms. Belsches said. "My father, like all of the Virginia Randolph teachers, was very devoted to his students. Teachers there knew that their students had to be twice as good as their coun- terparts anywhere in America or the world."
Many of the young African- America students who attended Virginia Randolph during segregation went on to Ivy League colleges as well as historically Black colleges and universities.
These are the stories the documentary will tell, Ms. Belsches said.
Ms. Belsches has written biographical entries about Ms. Randolph that are published in the "Encyclopedia Virginia" and the "African American National Biography," a joint project of Harvard University's Hutchins Center and Oxford University Press.
She also served as an in-studio researcher on Steven Spiel- berg's 2012 film, "Lincoln," and as an archival researcher and author of the narration for the documentary, "The Life and Times of Elizabeth Keckly," which was directed by Tim Reid in 2014.