Mahomes leads Kansas City to come-from-behind win at Super Bowl LIV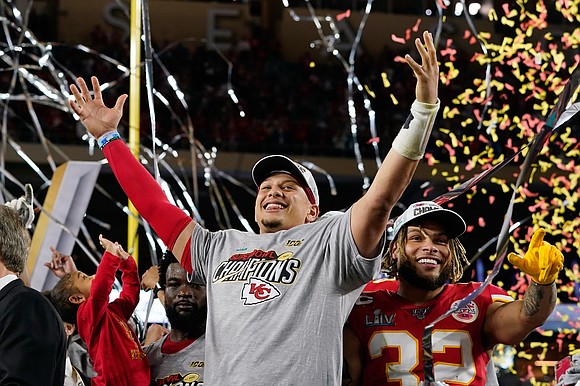 The New England Patriots' combo of quarterback Tom Brady and Coach Bill Belichick dominated the past two decades of NFL football.
Might the Kansas City Chiefs' tandem of quarterback Patrick Mahomes II and sideline guru Andy Reid become the team to beat in the coming decade?
After defeating the San Francisco 49ers 31-20 last Sunday in Super Bowl LIV in Miami, the Kansas City Chiefs — overcoming a 10-point, fourth-period deficit — are not only today's NFL champions, but a good bet to keep it going.
Mahomes, who doesn't turn 25 until Sept. 17, becomes the first quarterback to win a regular season MVP (2018) and Super Bowl MVP in his first three seasons.
Coach Reid, now with 222 career victories, including 16 postseason wins, had been the NFL's winningest coach not to clinch a Super Bowl.
"We wanted to get him the win because he deserved it," Mahomes told the media after Sunday's victory. "The work he puts in day in and day out ... I don't think he sleeps. He's someone who works harder than anyone I've ever known."
After a ragged start including two interceptions, Mahomes, always cool and confident, finished 26-for-42 for 286 yards.
The rattle-proof former Texas Tech star ran for one touchdown and passed to Travis Kelce and Damien Williams for two more. Kansas City's clinching score was on a 38-yard Williams run with 1:12 left.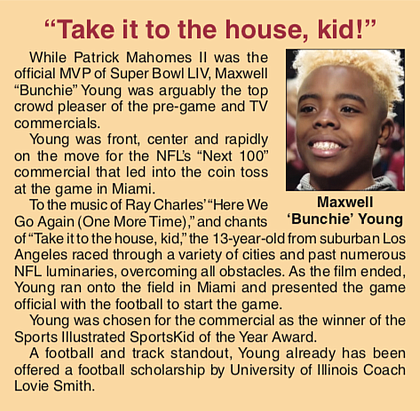 Mahomes' preferred target was Tyreek Hill, with nine receptions for 105 yards. Hill was involved in what Mahomes called "the play of the game" with 7:13 remaining and the Chiefs behind by 10 points.
At that critical juncture, a 44-yard Mahomes-to-Hill connection on third and 15 flipped the momentum upside down. Hill shows you don't need to be tall or come from a marquee school to make it big — that is if you have elite speed. The 5-foot-10 former University of West Alabama phenom ranks with the NFL's fastest. Hill ran the 100-meters in 9.98 seconds while in college and was timed at 4.28 in the 40-yard dash at the NFL Combine. No wonder his nickname is "Cheetah." Other take-aways from Hard Rock Stadium:
• The Chiefs'African-American offensive coordinator Eric Bieniemy now has another feather in his cap when being interviewed for future head coaching jobs. Bieniemy, despite presiding over one of the NFL's top at- tacks, is 0-for-7 in interviews during the past two seasons.
• This Super Bowl had been hard for the NFL Washington franchise to swallow. San Francisco Coach Kyle Shanahan, along with his father Mike, were fired by Washington in 2012. Mike was head coach; Kyle, an assistant.
Also, defensive back Kendall Fuller was traded from Washington to Kansas City in 2018 for quarterback Alex Smith, who is now on the injured list. Fuller, out of Virginia Tech, had one of two Kansas City interceptions — Bashaud Breeland had the other — against San Francisco quarterback Jimmy Garoppolo. Fuller also broke up two other passes, leading to Garoppolo's poor 69.2 quarterback rating.
• This marked Kansas City's first Super Bowl title since 1970, when Richmonder Willie Lanier was leading the Chiefs' defense. San Francisco has not won a Super Bowl since 1995.
• Super Bowl LV is set for Feb.7, 2021, at Raymond James Stadium in Tampa.
Don't be surprised if the Chiefs are in attendance. Patrick Lavon Mahomes II writes his name with a roman numeral rather than a "Junior" tag.
It makes sense. He's likely to be associated with Super Bowls for years to come.