Spartans' Jermaine Bishop leads NSU in scoring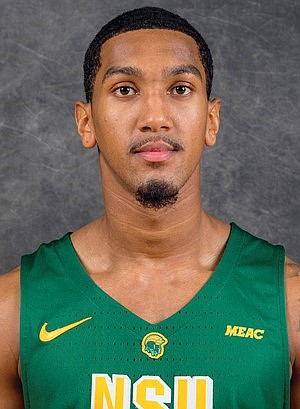 Jermaine Bishop seems to have a rust- proof jump shot and a crossover dribble that collects no cobwebs.
After being sidelined for the better part of three seasons, Bishop's jumper is smack dab on target for Norfolk State University.
The New York City native quickly has evolved as a guiding light as NSU pursues consecutive MEAC titles.
The 6-foot-1, red-shirt senior leads Coach Robert Jones' squad in scoring (14.0 points) and 3-pointers (62) and has been a catalyst in an otherwise rebuilding season.
Heavily recruited out of Holy Cross High School in Queens, N.Y., Bishop signed with St. Louis University and made the Atlantic-10 All-Rookie team in 2015-16.
Then came problems. He was injured in November 2016 and missed the rest of the 2016-17 season, plus all of 2017-18 while still at St. Louis.
Bishop then transferred to NSU and sat out the 2018-19 season under the NCAA residency rule.
The NSU Spartans have grown accustomed to success under Coach Jones and this season is no exception.
The Spartans won their first six MEAC games before losing at North Carolina A&T State University 74-68 on Saturday, Feb. 1. NSU has reached the postseason six times since 2013 (four CITs, two NITs) and is 78-25 under Coach Jones against MEAC opponents.
Roster renovation: NSU's lineup bares little resemblance to a year ago. The Spartans lost five players to graduation and four others transferred. Bishop is one of 10 newcomers.
"Greek Freak": Sorry, NBA star Giannis Antetokounmpo hasn't joined the Spartans. However, NSU has its version of "Freak" in 6-foot-10 junior Efstratios Kalogerias from Piraeus, Greece. He comes to NSU after two seasons at Hillsborough Community College in Florida. The squad's tallest man has started five games, averaging four points and three boards.
804 connection now: Chris Ford, a 6-foot-8 sophomore from L.C. Bird High School in Chesterfield County, and 6-foot-6 freshman Tyrese Jenkins from Varina High School have earned their way into Coach Jones' rotation.
Ford, with 12 starts, averages five points and four rebounds and leads the team with 26 blocked shots. Jenkins is the most recent MEAC Rookie of the Week.
804 connection then: Old-timers still rave about the late 1960s Spartans team featuring Richmonders Bobby Dandridge from Richmond's Maggie L. Walker High School and Charles Bonaparte from Richmond's Armstrong High School. NSU averaged nearly 107 points per game 1967 to 1970, with 60 games of at least 100. The Spartans posted a three-season record of 64-13.
Nearly automatic: Joe Bryant, a 6-foot-1 sophomore from Norfolk's Lake Taylor High School, is among the NCAA's most accurate free throw shooters. Bryant has hit 48 of 50 free throws while averaging 12.7 points per game.
Coming soon: NSU will play host to Delaware State University at 6:30 p.m. Saturday, Feb. 8. The Spartans are 7-1 at Joe Echols Hall on the NSU campus.